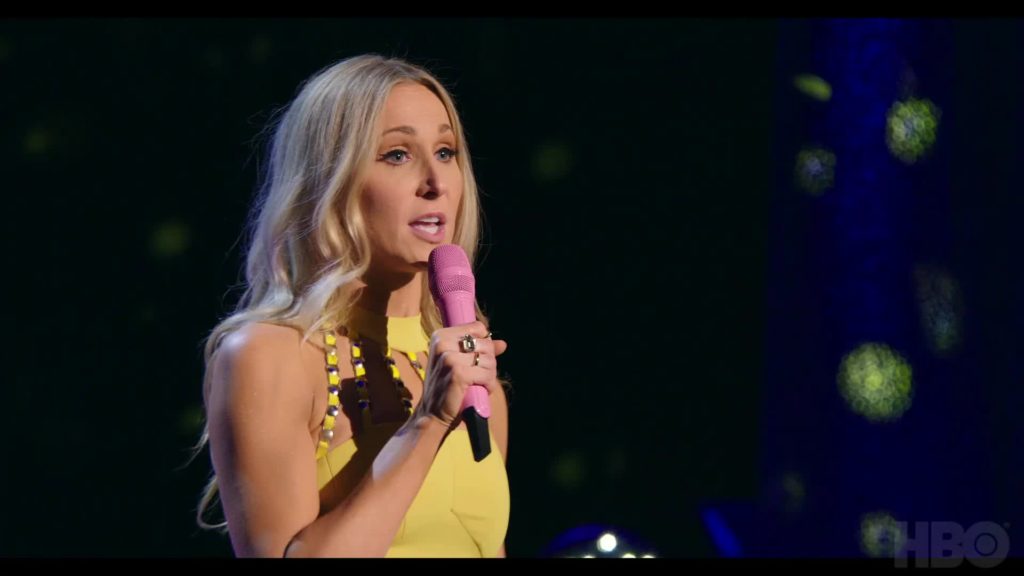 The raunchy comic knows how to accurately describe her act in her latest standup comedy special, "Nikki Glaser: Good Clean Filth" (HBO, 10 p.m.). 
The new three-part , three hour "Planet Shark" (National Geographic, 8 p.m.) is the latest entry in the network's SharkFest. Elsewhere are "Sky Sharks" (Disney XD, 9 p.m.),
In what sounds like a film custom made for its retro looking star Anya Taylor-Joy of "The Queen's Gambit," an aspiring fashion designer time travels to the 1960s in "Last Night in Soho" (HBO, 8 p.m.), making its premium cable debut. Thomas McKenzie, Matt Smith, Diana Ring and Sam Claflin also star. 
In prime time, the Superstar Racing Experience (CBS, 8 p.m.) originates from the 1-55 Raceway in Missouri. 
Sports dominate prime time broadcast TV with the World Track & Field Championships (NBC, 9 p.m.) from Oregon and Boston at Yankees (Fox, 7 p.m.) going at it again in baseball. 
The only new scripted show is the second season finale of the Canadian hospital series  "Transplant" (NBC, 8 p.m.), where Bash determines his future.
"The Incredible Dr. Pol" (Nat Geo Wild, 7 p.m.) looks back at his career in advance of the series' 200th episode. 
A girl's parents host a holiday-themed reunion before selling the family summer camp and then love blooms in the made-for-TV "Campfire Christmas" (Hallmark, 8 p.m.). Tori Anderson, Corbin Bleu and Jeffrey Bowyer-Chapman star.