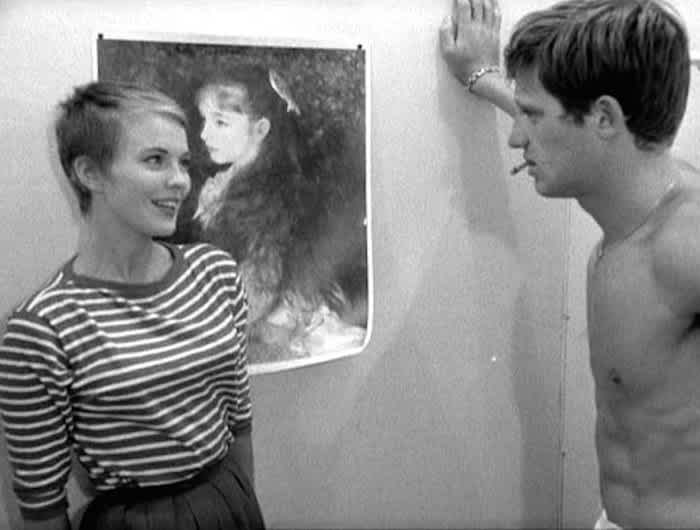 The fashion series on Turner Classic Movies has a couple of cool ones: Marlon Brando in "the 1955 "Rebel Without a Cause" (8 p.m.) and Jean Seberg and Jean-Paul Belmondo (above) in Jean-Luc Goddard's 1960 "Breathless" (10 p.m.). 
First it was in theaters this summer, then it was streaming, now "The Bob's Burgers Movie" (HBO, 8 p.m.) makes its premium cable debut. 
"Christmas in Toyland" (Hallmark, 8 p.m.) is a new, out-of-season made-for-TV romance about a data analyst and toy store manager trying to keep the shop going. Vanessa Lengies and Jesse Hutch star.
"Flowers in the Attic: The Origin: Part 3: The Murderer" (Lifetime, 8 p.m.) continues the series.
A new group of couples have a sixth season start for the reality relationship series "Black Love" (OWN, 10 p.m.)
"First Blood" (A&E, 9 p.m.) tells the story of Anthony Sowell, the Cleveland Strangler.
Recruits face tiger sharks on the final day of their "Shark Academy" (Animal Planet, 10:51 p.m.).
"Dr. Jeff: Rocky Mountain Vet" (Animal Planet, 8 p.m.) deals with a puppy who fell off a trampoline.
Josh Gates looks for fossilized magalodon teeth in South Africa and Mexico on "Expedition Unknown" (Discovery, 10 p.m.).