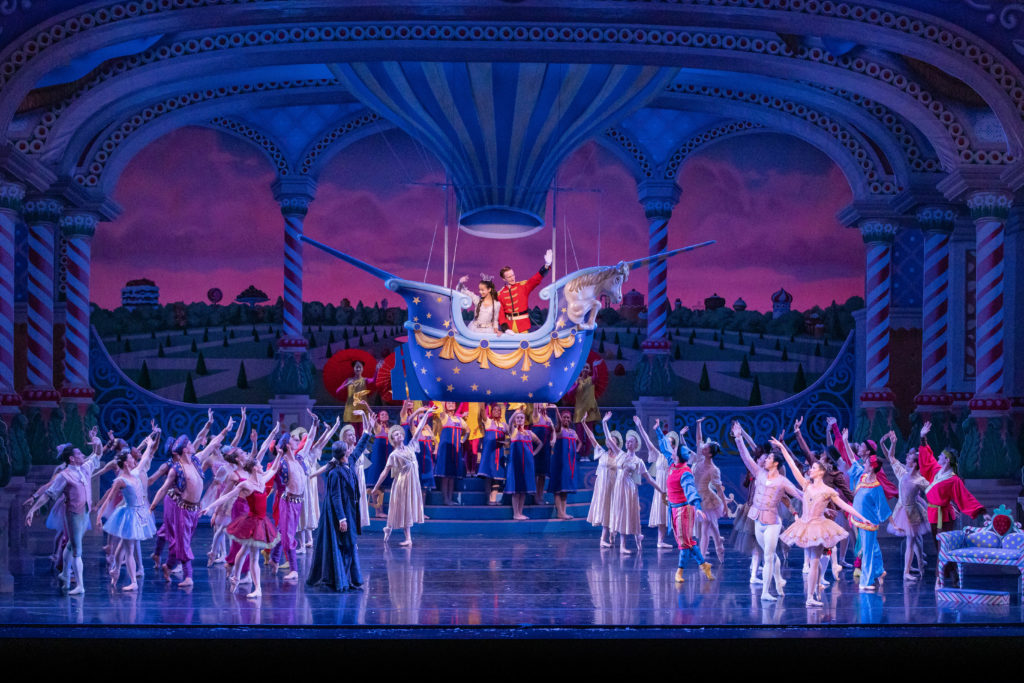 Like the growing Christmas tree, the grand Tchaikovsky score and the sparkle on the snow queens, there are certain things audiences expect from their annual viewing of "The Nutcracker," and the Kansas City Ballet production of it currently at the Kennedy Center for the Performing Arts, provides most of them.
If the sight of small children tumbling from the petticoats of Mother Ginger is delightful, why not add the impossibly cute children in as many scenes as possible – as lambs among the Marzipan, substitute soldiers in the battle against the rodents; why not the mice themselves?
The company production choreographed by artistic director Devon Carney does all that and more, even briefly presenting child versions of the costumed dancers from Spain, Arabia and China in act one, shortly after seeing a puppet theater that had all the same anticipated costumed dancers represented as well. It's a nifty foreshadowing of what everyone knows will be coming, one of a few variations in the production.
Chief of them, possibly, is beginning the production not in the decked-out halls of the family parlor Christmas party, but in the well-appointed workshop of the ever-mysterious Dr. Drosselmeier. There, with his eyepatch and ponytail, the doctor devises the various dolls that will enchant the young partygoers – the pair of mechanical dancers (Sidney Heafs and Joshua Kiesel), the stiff Nutcracker prince (Joshua Bodden) and — why not? — a big floppy Dancing Bear (Ben Zusi).
With a flourish of magic (and hiding behind the book cases), he turns the lifesize dancers into doll-sizes for easier transport and packaging before his arrival at the party.