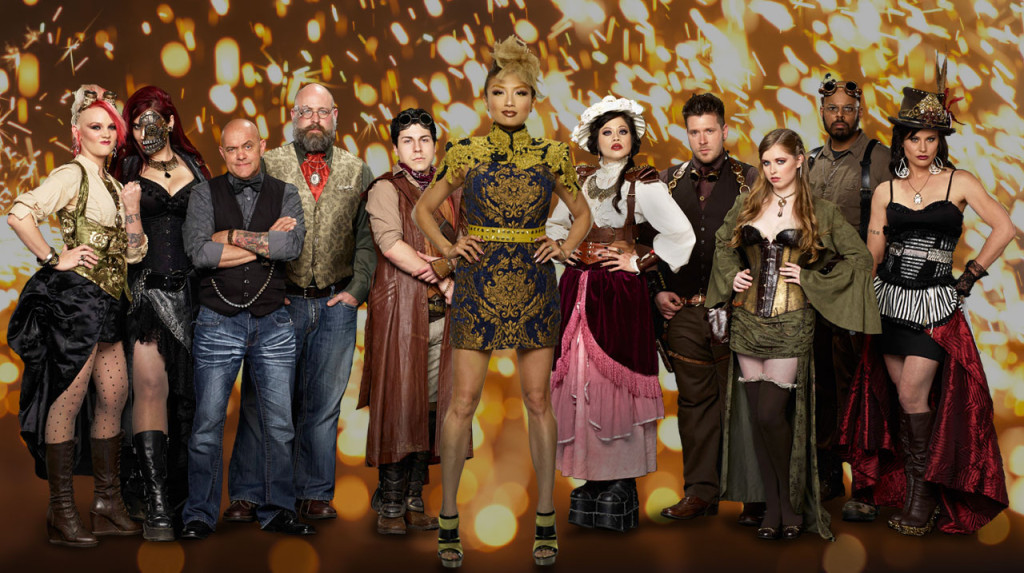 The world of reality competitions is getting into some mighty small niches. The latest is "Steampunk'd" (GSN, 10 p.m.), in which adherents of the oddly futuristic Victorian realm compete for the best steampunk designs made from ordinary objects. Jeannie Mai, center,  is host. It coincides with another creative concern, "Skin Wars" (GSN, 9 p.m.) in which the final three compete on contortionists to create painted illusions.
Chemistry may seem like a difficult subject to tackle in the dog days of August, but "The Mystery of Matter: Search for the Elements" (PBS, 8 p.m., check local listings) will do just that, looking at  the people behind the Periodic Table, spanning 200 years, and how seven scientists — Joseph Priestley, Antoine Lavoisier, Humphy Davy, Dmitri Mendeleev, Marie Curie, Harry Moseley and Glenn Seaborg — laid the foundation for understanding matter. It's like cramming for a chem test, though: The full three hour series runs on one night.
"Mobsteel" (NBC Sports Network, 10 p.m.) became the network's most watched original series premiere, coming after a NASCAr race; it begins its regular time slot. It chronicles the entertaining work of a Detroit firm with the tough name which restores classic vehicles. The couple at the head of the business, Adam and Pam Genei gave me a lift in one of their restored gems, a 1963 Continental, last week. Tonight they restore a 1963 Continental with a crew that looks cast from Comedy Central.
Elsewhere, Audrey fixes up "Kevin from Work" (ABC Family, 8:30 p.m.) on a date and then regrets it.
Rachel plans her wedding on "Suits" (USA, 9 p.m.).
For the eighth season finale of "Duck Dynasty" (A&E, 9 p.m.), John Luke gets married to Mary Kate.
On the season finale of "Flipping Out" (Bravo, 9 p.m.), Jeff plans on starting a family.
There are some people to kick out on "America's Got Talent" (NBC, 8 p.m.).
Semifinals ben on "Last Comic Standing" (NBC, 10 p.m.).
Hybrids try to get revenge on "Extant" (CBS, 9 p.m.), and we don't mean the cars.
Corey Feldman and Tommy Davison's women change places on "Celebrity Wife Swap" (ABC, 10 p.m.) in an episode that technically doesn't involve any wives.
Jim celebrates Dave's birthday but not Jeannie's on "The Jim Gaffigan Show" (TV Land, 10 p.m.).
Politicians aren't the only ones eating bad food on a stick at state fairs. "Carnival Cravings with Anthony Anderson" (Food Network, 10 p.m.) he tries a cinnamon roll sundae with bacon.
A man from Elliot's past is about to complicate things on "Mr. Robot" (USA, 10 p.m.).
On a new episode of "The Exes" (TV Land, 11 p.m.), Phil dates an actress.
Difficult clients? Bidding wars? "Million Dollar Listing San Francisco" (Bravo, 10 p.m.) is not teaching me anything I don't already know.
The Power of Veto competition is held on "Big Brother" (CBS, 8 p.m.).
I love how Tara makes contestants do things actual models would never have to do on "America's Next Top Model" (The CW, 8 p.m.), like, tonight, walking on shipping containers.
Coffee is the required ingredient on "MasterChef" (Fos, 8 p.m.).
It's the Duke all day on Turner Classic Movies with 12 John Wayne movies, "She Wore a Yellow Ribbon" (6 a.m.), "The Wings of Eagles" (7:45 a.m.), "McLintock!" (9:45 a.m.). "Rio Lobo" (midnight), "Big Jake" (2 p.m.), "McQ" (4 p.m.), "Brannigan" (6 p.m.), "The Quiet Man" (8 p.m.), "The Searchers" (10:15 p.m.), "Rio Bravo" (12:30 a.m.), "Big Jim McLain" (3 a.m.), And "Tall in the Saddle" (4:30 a.m.).
Baseball tonight includes Tigers at White Sox (ESPN, 8 p.m.).
Daytime Talk
Kelly & Michael: Melissa McCarthy, Jennifer Arnold & Bill Klein, Cara Delevinge, Rachel Platten. The View: Nick Jonas, Lewis Black (rerun). The Talk: Katharine McPhee, Rob Gronkowski (rerun). Ellen DeGeneres: Sean "Diddy" Combs, Shawn Mendes (rerun). Wendy Williams: Dr. Paul Nassif, Dr. Terry Dubrow, Julie Alexandria (rerun). Meredith Vieira: Stacey Dash, Kevin O'Leary (rerun). Queen Latifah: Wendie Malick, Jane Leeves, Sherri Shepherd (rerun).
Late Talk
Jimmy Fallon: Heidi Klum, David Oyelowo, Carly Rae Jepsen, Bernard Fowler. Jimmy Kimmel: Queen Latifah, John McEnroe, Mumford & Sons. Seth Meyers: Keegan-Michael Key, Tony Hale, MS MR, Jimmy Chamberlin. James Corden: Owen Wilson, Johnny Knoxville, Natasha Leggero, Robin Thicke. Carson Daly: Peter Facinelli, Laura Welsh, Maz Jobrani (rerun). Tavis Smiley: Michael "Killer Mike" Render (rerun). Jon Stewart: Judd Apatow (rerun). Conan O'Brien: J.B. Smove, Tig Notaro, Langhorne Slim.