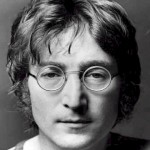 When someone says "Beatlemania," it usually conjures up black-and-white footage of girls in outdated clothing jumping up and down at airports and weeping in theater seats.
Yet another kind of mania affected a small percentage of Beatles fans who obsessively listened to albums in search of hidden messages.
That and lax gun laws are what led to the chilling murder of John Lennon 30 years ago today.
After hanging around Lennon's apartment house, even getting an autograph from the gracious performer, Mark David Chapman returned with a gun later that night and shot Lennon four times in the back as he was returning from a recording session to his home at the Dakota.
The three-decade observance of the death of Lennon, who also would have turned 70 this year, comes at a time when the Beatles showed their staying power, selling 2 million singles and 450,000 albums the first week their work became available on iTunes last month.
It also comes after Chapman, given a 20 year minimum sentence after pleading  guilty to the murder (against the advice of lawyers who urged him to plead insanity), was denied parole this year for the sixth time.
In speaking against the assassin's parole to reporters in August, Ono said, "I think I'm being
 practical. I don't know if I am, but that is what I
think I am being, to ask that he not be released, maybe because he can be a danger to other people, too,
 especially to us, to me, Julian and Sean, but I think
 that maybe he would be a danger to other people too.
 But also he may be a danger to himself. I don't know. 
But I just don't want to be responsible for all that."
Arguing against parole 10 years ago, Ono told the parole board of the impact of the death of John Lennon. "For the people of the world," she said, "it was as though the light went out for a moment and darkness prevailed."
It was no exaggeration. His death provoked generational heartbreak and scores of spontaneously organized, truly heartfelt mass mournings. Millions wept openly in football fields and parks across the country as music from Lennon's Beatles and solo career played.
Yet the attack on Lennon was not the only one among the Beatles.
Before his death in 2001 of cancer, George Harrison was nearly stabbed to death in his Oxfordshire mansion in 1999 by a man who was acquitted by reason of insanity.
Michael Abram told psychiatrists he was on a "mission of God" when he attacked Harrison and his wife with a knife, a table lamp, a pole from a broken statue and an electrical cord.
The addled assailant believed the Beatles "were flying around on broomsticks possessing people," said Dr. Philip Joseph, who testified at the trial. "He could see how all roads were leading to George Harrison, who was teaching others how to possess people."
It was Harrison, the most hermit-like of the surviving Beatles, who tried to come to terms with the band's influence on the mentally ill in a passage in the band's book, "The Beatles Anthology."
"Everybody was getting on the big Beatle bandwagon," Harrison wrote. "The police and the promoters and the Lord Mayors — and murderers too. Everybody attached themselves to us, whether it was our fault or not."
There was a dark side to these attachments. One was the seemingly harmless yet morbid fascination with the rumor that Paul McCartney was dead, a rumor fueled by interpretations of album covers and lyrics and Beatles' songs played backward.
But it also inspired mass murderer Charles Manson. At the grisly scene of the murder of actress Sharon Tate and her friends, the Beatles song titles "Helter Skelter" and "Piggies" were scrawled on the wall in the victims' blood.
"As a D.J. later would `interpret' the fact that I had no shoes on the `Abbey Road' cover, Charles Manson interpreted that `Helter Skelter' was something to do with the Four Horsemen of the Apocalypse," McCartney says in "Anthology."
"He interpreted the whole thing — that we were the four horsemen, `Helter Skelter' the song — and arrived at having to go out and kill everyone. It was terrible."
Lennon, in a 1970 interview, said Manson was "like any other Beatle fan who reads mysticism into it."
In "The Beatles Anthology," the band reveals a number of death threats they got over the years, along with the jelly beans and teddy bears flung on stage.
One they took seriously occurred on the 1964 tour in Quebec, "where we'd thought Ringo was going to get shot," Harrison says. "A Montreal newspaper reported that somebody was going to kill Ringo. Because they didn't like his nose or something? Because he was the most British of the Beatles? I don't know."
The band didn't take any chances, skipping the night's stay in Montreal and flying to Florida, where a hurricane diverted them from Jacksonville to Key West for a day.
"Some people decided to make an example of me as an English Jew," Starr said in the book. "The one major fault [with that theory] is I'm not Jewish."
In general, he said, "threats we took in our stride." But in Montreal, "I was really worried. We were playing the gig, and as always, I was on a high-riser. I had the cymbals up towards the audience to give me a bit of protection; usually I had them flat on. I also had a plainclothes policeman sitting there with me, but I thought, `If someone in the audience has a pop at me, what is this guy going to do? Is he going to catch the bullet?"'
Beatles producer George Martin recalled a show at the Red Rocks Amphitheatre near Denver. "The amphitheater is such that you could have a sniper on the hill who could pick off any of the fellows at any time. No problem. I was very aware of this, and so were the boys."
"It was upsetting," Martin wrote elsewhere in the book. "I remember when George was in Germany, he got a letter saying, `You won't live beyond the next month."'
During the 1965 tour, the threats became more ominous when the U.S. press picked up on a British interview in which Lennon said, "Christianity will go. It will vanish and shrink. I needn't argue about that; I'm right and will be proved right. We're more popular than Jesus Christ now. I don't know which will go first, rock 'n' roll or Christianity."
Lennon was forced to disavow the comparison of the Beatles to Christ, "not because of what he'd said," McCartney wrote, "but to save our lives because there were a lot of very heavy threats — not only to him but to the whole band."
In a 1966 interview, Lennon said he didn't want to go to the press conference because "I thought they'd kill me, because they take things so seriously here. I mean, they shoot you, and then they realize it wasn't that important."
Before two shows at the Mid-South Coliseum in Memphis, there were death threats from the Ku Klux Klan. So when a firecracker went off during one show, McCartney recalled, "every one of us — I think it's on film — look at each other, because each thought it was the other that had been shot. It was that bad."
Such treats were a factor in the Beatles' decision to stop touring. "Especially after having been accused of crucifying Jesus when all I'd made was a flippant remark, and having to stand with the Klan outside, and firecrackers going on inside," Lennon said in a 1980 interview. "I couldn't take any more."
Even as a solo act, Lennon played only a handful of live dates.
Harrison said the stress of touring under difficult conditions contributed to the Beatles' breakup in 1970. "We had taken on such a lot of stress from 1963, although at first we didn't realize it."
In the end, the trade-off with fans wasn't even, Harrison said "The people gave their money, and they gave their screams, but the Beatles gave their nervous systems, which is a much more difficult thing to give."
The fear didn't go away after the breakup, of course. And when Lennon was murdered, the other Beatles considered extra security measures. "I did have several threats on my own life, and I had to have guards living with me. I hated it," Starr told Beatles biographer Hunter Davies. "I always felt safe in America until John was shot. But you can't go on living in fear. If the president himself can't stay properly protected, what chance do other people have?"
For Davies, whose early authorized Beatles biography was the only book found in Manson's home, the idea that "`Helter Skelter' was an incitement to kill [was] a chilling realization of what could happen to a twisted mind. And it did happen, outside the Dakota apartment building in New York, on Dec. 8, 1980."
[adapted from a story I wrote in 2000]