It's a little creepy that the world press glommed onto the sister bridesmaid at Will and Kate's Royal Wedding because of no visible panty line. The frenzy about her has not subsided since and tonight, an episode of "19 and Counting" makes way for a new special "Crazy About Pippa" (TLC, 9 p.m.), likely filed with the same old news footage, with a interviews from "experts" on the phenomenon.
You Tube seems the place where stars are born, so it figures that a whole semi-final round of "America's Got Talent" (NBC, 9 p.m.) is built around online applicants. The two hour episode leads to a one hour results show Wednesday.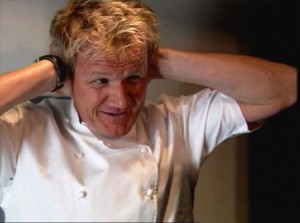 In the new series "Dirty Money" (Discovery, 10 and 10:30 p.m. p.m.), brothers John and Jimmy DiResta dumpster dive and scour flea markets in New York City in search of  treasure.  It comes after a couple of new episodes of "Auction Kings" (Discovery, 9 and 9:30 p.m.).
Gordon Ramsay seemed surprised last week when I told him it was possible to see four hours of him on TV in one night. It happens again tonight with new episodes of "Hell's Kitchen" (Fox, 8 p.m.), with 10 chefs competing, and "MasterChef" (Fox, 9 p.m.) with five competing, there is also a new season of the lighter "Gordon Ramsay's F Word" (BBC America, 10 p.m.). and "Gordon Ramsay's Shark Bait" (BBC America, 11 p.m.).
A third season starts for "Top Shot" (History, 10 p.m.), the marksman competition that promises more demanding challenges and twists for its 16 contestants.
A mid-season finale comes for "White Collar" (USA, 9 p.m.) with Neal and Mozzie trying to outrun the FBI.
The second episode moves $100,000 through Miami on "Take the Money and Run" (ABC, 9 p.m.).
People from another summer prime time game show, "It's Worth What?" (NBC, 9 p.m.) may want to give it a special look.
Ludo and Krissy visit her hometown, Denver on a new "Ludo Bites America" (Sundance, 9 p.m.).
The insightful look at the modern food industry, "Food Inc.," gets a replay on "P.O.V." (PBS, 9 p.m., check local listings).
Today's star on Turner Classic Movies is Ann Dvorak, featured in "Scarface" (8 p.m.), "Three on a Match" (9:45 p.m.), "Blind Alley" (11 p.m.), "The Long Night" (12:15 .m.) and "I Was An American Spy" (2 a.m.).
Daytime Talk
Regis and Kelly: Jane Fonda, Chris Colfer, Luke Bryan. The View: Keanu Reeves, James Caan, Debbie Reynolds, Elie Tahari (rerun). The Talk: Allison Janney, Louis van Amstel. Ellen DeGeneres: Wanda Sykes, Topher Grace, Jacee Badeaux, Colton Dixon (rerun). Wendy Williams: Raquel Robinson (rerun).
Late Talk
David Letterman: Cameron Diaz, Eddie Vedder (rerun). Jay Leno: Jesse Eisenberg, Mike "The Situation" Sorrentino, Cage the Elephant. Jimmy Kimmel: Jessica Alba, chef Steve Martorano, Luke Bryan. Jimmy Fallon: Katie Holmes, the Kills, Gary Clark Jr. Craig Ferguson: Heather Graham, Chris Gorham (rerun). Tavis Smiley: Robert Kennedy Jr. (rerun). Carson Daly: Diplo, Laurie Ann Gibson, Alberta Cross (rerun). Jon Stewart: Jay Bahadur. Stephen Colbert: The Cars. Conan O'Brien: James Franco, Nick Swardson, Nate Bargatze. George Lopez: Roseanne barr, Michael Pena, Rival Sons. Chelsea Handler: Rose McGowan, Jo Koy, Natasha Leggero, Bobby Lee.