The finale comes for "So You Think You Can Dance" (Fox, 8 p.m.) in a season marked by top notch dancers, the return of Mary Murphy and another shuffling of rules, with couples making way for all-star pairings.
The final four , jazz dancer Sasha Mallory, B-boy Tadd Gadduang, and contemporary dancers Melanie Moore and Marko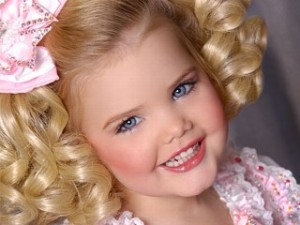 Germar, will all perform with a quartet of all-stars. Guest judges tonight include Katie Holmes and Kenny Ortega. Viewers vote and a winner will be named Thursday.
"Primetime Nightline: Celebrity Secrets" (ABC, 10 p.m.) looks at when fame comes to the young, such as Rebecca Black, who became a star after a famously bad internet hit, as well as boy band Big Time Rush, and Eden Wood, pictured left, one of the most famous contestants on "Toddlers & Tiaras" (TLC, 10 p.m.).
The season finale of "Toddlers & Tiaras" plays opposite the ABC News special, oddly, with Eded competing in a Rumble in the Jungle competition in  Tennessee.
A power of veto competition is held that may change the two are on the eviction block on "Big Brother" (CBS, 8 p.m.). Head of Household Kalia has nominated Lawon and Rachel, whose fiancé Brandon was voted off last week.
Four acts from those who rose from YouTube make it to the finals of "America's Got Talent" (NBC, 9 p.m.).
Jason Derulo guest stars on a new "State of Georgia" (ABC Family, 8:30 p.m.). Matt Lauer plays himself on a new episode of "Royal Pains" (USA, 9 p.m.).
"Jon Benjamin Has a Van" (Comedy Central, 10:30 p.m.) and puts it in park; it's the season finale. Bob Odenkirk and Kirk Hammett guest star.
Phyllis Diller and Sandra Bernhard join Roseanne Barr for a girls night out on what sounds like a can't miss episode of "Roseanne's Nuts" (Lifetime, 9 p.m.).
Hope they're not bidding on my stuff on "Storage Wars" (A&E, 10 p.m.).
Shirley MacLaine is the star of the day on Turner Classic Movies with "The Apartment" (8 p.m.) kicking off primetime, followed by "Some Came Running" (10:30 p.m.), the original "Oceans Eleven" (1 a.m.) and "The Yellow Rolls-Royce" (3:30 a.m.).
Angels at Yankees (ESPN, 7 p.m.) gets a national audience.
Daytime Talk
Regis and Kelly: Elijah Wood, Gavin DeGraw, Paul "DJ Pauly D" Delvecchio. The View: Alexis Stewart, Giuliana Rancic (rerun). The Talk: Carnie Wilson, Hill Harper. Ellen DeGeneres: Mike Tyson, Ellen Pompeo (rerun). Wendy Williams: Candy Spelling, Tank.
Late Talk
David Letterman: Shia LaBeouf, Bert Kreischer, Dawes (rerun). Jay Leno: Joel McHale, Viola Davis, Ximena Sarinana. Jimmy Kimmel: Jesse Eisenberg, Jerry Sringer, Incubus. Jimmy Fallon: Nicole "Snooki" Polizzi, Joe Buck, Tig Notaro. Craig Ferguson: Howie Mandel, Wendy Booker, the Goldberg Sisters (rerun). Tavis Smiley: Julianne Malveaux (rerun). Carson Daly: Ben Schwartz, Duncan Jones, Biffy Clyro (rerun). Jon Stewart: Admiral Michael Mullen. Stephen Colbert: Elliott Ackerman. Conan O'Brien: Aziz Ansari, Mike "The Situation" Sorrentino, Keb Mo. George Lopez: Jessica Alba, David Koechner, Ellie Goulding. Chelsea Handler: Bryce Dalls Howard, Chris Hardwick, Jen Kirkman, Matt Braunger.