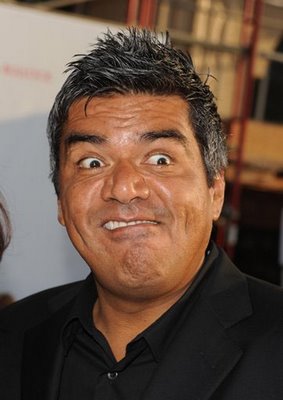 "Hey, in case you didn't hear the news, TBS has decided not to renew 'Lopez Tonight,'" the comedian informed his audience Wednesday night, as part of his monologue. "Unemployment is at an all time high and for Latinos, it just got a little higher."
He did say a sequel to the "Smurfs" movie was on the horizon, and he took part in that hit. "So today I lost some work because I'm brown, but also got some work because I'm blue!"
Actually he lost his show because ratings have fallen about 40 percent for its second season. "Lopez Tonight" dropped from an average of about 910,000 viewers a night at 11 p.m. last year, to about 543,000 at midnight, after he gave up his original time slot to make a home for Conan O'Brien, who left NBC after his 11:30 p.m. "Tonight" show was bumped by NBC in a flap last year.
This month, "Lopez Tonight" has been drawing about 391,000 people nightly. "Conan' is down as well, to about 709,000 nightly after drawing about 2 million when he debuted last November.
The Lopez cancelation will take hold almost immediately: Today's Thursday night show will be his last.
But at least the news provided some easy material for his final shows, and a twist to the usual Charlie Sheen jokes.
""Like every TV star before me, I'm going to find some crack. I'm going to get on the pipe! Lose that unwanted 110 pounds I wanted to lose. But I'm taking it good, I'm straight, believe me. I'm fine. My goddesses are a wreck."