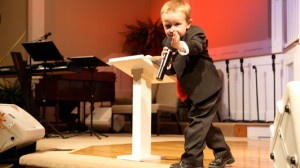 It's weird enough to see the parade of kids on shows like "Toddlers & Tiaras." But what about pre-kindergarten kids brandishing microphones and those odd rhythmic barks of brimstone preaching?
One such wonder is 4-year-old Kanon Tipton, right, who preaches up a storm like a juvenile Jimmy Swaggart. If you think his speaking in tongues and slaying in spirit style is eye-opening, wait until you see the footage of him as a one-year old, doing just about the same thing except that he doesn't quite know how to talk yet.
Tipton is just the first of several young preachers featured in "Pint-Sized Preachers" (National Geographic Channel, 10 p.m.). The ones who are 12, though, seem overly mature by comparison (and yes the tale of Marjoe is mentioned briefly).
Like an oasis in a desert of dog days programming, "The Hour" (BBC America, 10 p.m.) ought to satisfy those looking for well-made grownup television. This one is set at the dawn of BBC broadcasting at a time when the world looked like it was all crashing down too (with parallels to action in Egypt). Yet there's a mystery and conspiracy at the heart of the series which stars Dominic West as the a shiny new anchor and features luminous Romola Garal and an agitated Ben Whishaw.
It's preceded by a third season premiere of "Law & Order: U.K." (BBC America, 9 p.m.).
In the first movie made for CMT, Ricky Schroeder stars as former pro wrestler who teaches the wrestling program at a school in the South. Laura Bell Bundy is his love interest in "To the Mat" (CMT, 8 p.m.).
You know you're getting closer to the Great Depression when the latest reality competition, titled "Ton of Cash" (VH1, 9 p.m.) features contestants who say they're all deep in debt trying to drag a load of cash presumably weighing 2,000 pounds across a 300 mile expanse. The winner gets $1 million.
It doesn't seem right that Liza Minnelli has to celebrate her 65th birthday on a reality competition. But it serves as the season finale on "Rocco's Dinner Party" (Bravo, 10 p.m.).
"Deadliest Warrior" (Spike, 10 p.m.) pits historical figures against one another for your entertainment. Tonight, a battle between Saddam Hussein and Pol Pot follows a rerun at 9 of Hannibal vs. Ghengis Khan.
Tommy returns to Ground Zero on a new "Rescue Me" (FX, 10 p.m.).
Huey Lewis and Buck Henry return to guest on "Hot in Cleveland" (TVLand, 10 p.m.), while Charles Shaughnessy's visit to the season finale of "Happily Divorced" (TV Land, 10:30 p.m.) constitutes a mini-"Nanny" reunion.
A winning couple is named in the finale on one of those network reality competitions we haven't been watching, "Love in the Wild" (NBC, 10 p.m.). Then the question will be: Are they really in love?
Wilmer Valderrama guest stars on a new "Royal Pains" (USA, 9 p.m.).
The first season of Raven's latest sitcom "State of Georgia" (ABC Family, 9 and 9:30 p.m.) comes to an end.
A new season starts for "Outrageous Kid Parties" (TLC, 10 p.m.), beginning with a candy fantasy park themed preschool graduation bash.
Jumping networks from MTV and transforming grownups instead of teens, a retooled "Made" (CMT, 10 p.m.) follows a policeman who dreams of becoming a pro wrestler.
The wild card winners are named on "America's Got Talent" (NBC, 9 p.m.), where Colbie Caillat shows off actual talent. Another power of veto competition is held on "Big Brother" (CBS, 8 p.m.).
Humphrey Bogart is the star of the day on Turner Classic Movies with a prime time roster that begins with "The Maltese Falcon" (8 p.m.) and "Sahara" (10 p.m.), followed by "Beat the Devil" (midnight), "The Caine Mutiny" (2 a.m.) and "Tokyo Joe" (4:15 a.m.).
Daytime Talk
Regis and Kelly: Jeff Bridges, Melanie Moore, Erin Andrews. The View: Jane Seymour, Erin Chase (rerun). The Talk: Donny Osmond, Garcelle Beauvais (rerun). Ellen DeGeneres: Hugh Laurie, Pauly D, Meredith Vieira (rerun). Wendy Williams: Sugar Ray Leonard (rerun).
Late Talk
David Letterman: Bono & The Edge, performance from "Spider-Man: Turn Off the Dark." Jay Leno: Jason Sudeikis, Adam Levine, Ziggy Marley (rerun). Jimmy Kimmel: Joel McHale, Joe Mantegna, the Band Perry. Jimmy Fallon: Ryan Gosling, Andy Cohen, Joseph Arthur (rerun). Craig Ferguson: David Beckham, Shohreh Aghdashloo (rerun). Carson Daly: Anders Holm & Adam DeVine, Sam Hain, Raphael Saadiq (rerun). Jon Stewart: Michael Steele. Stephen Colbert: Jeff Bridges. Conan O'Brien: Paul Rudd, Jessica Shastain, Vanessa Carlton. Chelsea Handler: Anne Hathaway, Greg Proops, Heather McDonald, Ross Mathews.