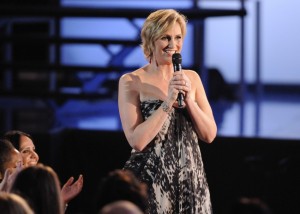 Before she steps in to host the Emmys, Jane Lynch will return to host the annual "Do Something Awards" (VH1, 9 p.m.) from the Hollywood Palladium in Los Angeles.
Performances are planned from Demi Lovato, OneRepublic featuring B.o.B. and Foster the People. Presenters include Kristen Bell, Nick Cannon, Jon Cryer, Victoria Justice, Adam Lambert, Mario Lopez, Rose McGowan, Olivia Munn, Keke Palmer and Lauren Potter.
Among the celebrities cited for their charities will be Justin Bieber, Sophia Bush, Birttany Snow, and Lovato.
The young nominees cited for their volunteer works are Sarah Cronk, 18, who started an organization that encourages students with disabilities joining cheerleading squads; Taryn Guerrero Davis, 25, whose organization provides for war widows; Mark Kabban, 23, whose group empowers immigrant children with soccer and art;; Adam Lowy, 25, who works to help food banks;  and David Schwartz, 25, whose group encourages colleges to buy food from local, sustainable sources.
It's Philadelphia at Pittsburgh (Fox, 8 p.m.) in preseason NFL action.
Designers must whip something up for judge Nina Garcia to wear at an industry event on a new "Project Runway" (Lifetime, 9 p.m.).
Eric Close of "Without a Trace" guest stars on a new "Suits" (USA, 10 p.m.). James Frain of "True Blood" guest stars on "Burn Notice" (USA, 9 p.m.).
Evicted once but reinstated by home viewers Brendon is up for eviction once again on "Big Brother" (CBS, 9 p.m.). The other nominee from Head of Household Daniele is Shelly.
Visitors to Mecklenburg County Jail in Charlotte go "Beyond Scared Straight" (A&E, 10 p.m.) in that strangely compelling show's season premiere.
The Situation snores on "Jersey Shore" (MTV, 10 p.m.).
The BET Awards (BET, 8:30 p.m.) gets a replay.
Barry Diller is profiled on a new "CNBC Titans" (CNBC, 10 p.m.).
The new "Junkies" (Science, 10 p.m.) isn't about drug abusers, but those who take discards and invent things from them. In this case it's jimmy Ruocco working at the Freeport Junk and Wrecking on Long Island. Another such inventor is Chris Hackett in his own series, "Stuck with Hackett" (Science, 10:30 p.m.).
There's a Jim Hanson sci-fi double feature with "Labyrinth" (Flix, 8 p.m.) followed by "Dark Crystal" (Flix, 9:45 p.m.).
Two new episodes of "Wilfred" (FX, 10 and 10:30 p.m.) run back to back, with Mary Steenburgen as guest.
Steve Carell stars in both "Date Night" (HBO, 8 p.m.) and a rerun of "The Office" (NBC, 9 p.m.).
French film star Jean Gabin is the featured actor all day on Turner Classic Movies, with prime time kicking off with "Pepe le Moko" (8 p.m.), "Grand Illusion" (10 p.m.) and "La Bete Humaine" (midnight), followed by "Touchez Pas Au Grisbi" (2 a.m.) and "Des gens sans Importance" (4 a.m.).
Daytime Talk
Regis and Kelly: Anne Hathaway, Nicole Scherzinger, Cat Deeley. The View: Edie Falco, Toni Braxton, Michael Corbett (rerun). The Talk: Tori Spelling & Dean McDermott, Barbara Eden, Jerry O'Connell (rerun). Ellen DeGeneres: Jessica Alba, Ken Jeong (rerun). Wendy Williams:  Gary Busey (rerun).
Late Talk
David Letterman: Ryan Gosling, Gomez (rerun). Jay Leno: Kathie Lee Gifford, Hoda Hotb, Sig Hansen, Ashton Sheperd (rerun). Jimmy Kimmel: Zoe Saldana, Anton Yelchin, Amos Lee. Jimmy Fallon: Brian Williams Rashad Evans, Big Sean (rerun). Craig Ferguson: Dick Van Dyke, Kristin Gore (rerun). Carson Daly: Neil Strauss, Death, Freddie Gibbs (rerun). Jon Stewart: Anne Hathaway. Stephen Colbert: Kevin Mitnick. Conan O'Brien: Louis C.K., Jim Sturgess, Hugh Moore. Chelsea Handler: Christopher Mintz-Plasse, Brad Wollack, Fortune Feimster, Bill Bellamy.