Russell Hantz swore he'd never go on "Survivor" again. But he never said anything about his nephew.
So 19-year-old Brandon Hantz, left, an oil tank crewman from Katy, Texas, is among the 16 contestants announced Monday for the cast of the reality show's 23rd season, "Survivor: South Pacific" starting Sept. 14.
Some the other new faces competing are a couple that have been on TV before, if briefly. Country singer Whitney Duncan, 27, of Nashville, was on the fifth season of "Nashville Star," finishing fifth. Another, Elyse Umemoto, 27, was Miss Washington, a second runner up on Miss America 2008 who was also in a reality show about the contest that was on TLC. Now she's listed as a "dance team manager" from Las Vegas.
Two cast members whose names were withheld until later this week will be returning to the show. Most of the internet is pretty sure it will be the guys known by their nicknames, Coach, and Ozzy, who have each already played the game twice.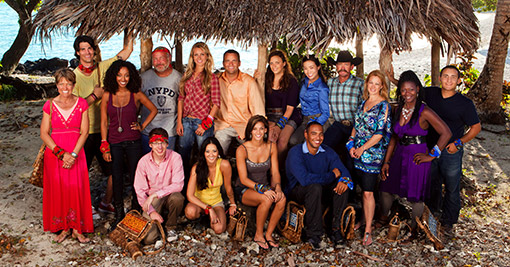 There are definitely more interesting occupations on "Survivor" this time around. Semhar Tadesse, 24, is a spoken word artist from Willsboro, N.Y.; Stacey Powell, 44, of Grand Prairie, Texas,is a mortician. Mikayla Wingle, 22, is a "Lingerie Football Player "and Playboy cover girl; Jim Rice, 35, is a medical marijuana dispenser from Denver. Albert Destrade, 26, of Plantation, Fla., is listed as both a baseball and dating coach.
Others among the "Survivor" cast this season are teacher Christine Shields Markoski, 39, of Merrick, N.Y.,' English professor Dawn Meehan, 41, of South Jordan, Utah; anesthesiologist Edna Ma, 35, of Los Angeles, Harvard law student John Cochran, 24, of Washington, D.C.,; water treatment technician Keith Tollefson, 26, of San Diego; retired NYPD detective mark-Anthony Caruso, 48; rancher Rick Nelson, 51, of Aurora, Utah; and medical student Sophie Clarke, 22 of Wilsboro, N.Y.;
A couple of the rules will change as well. With hidden immunity idols being found so easily by old uncle Russell, they're going to start hiding clues as well. And they'll reduce the population on Redemption Island to make sure each elimination battle is one-on-one.