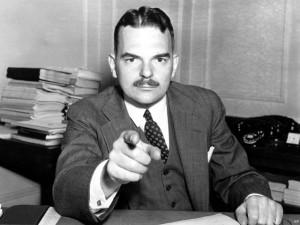 Having profiled all the Presidential homesteads and libraries C-SPAN moves this fall into what could have been.
A new 14 part series "The Contenders: They Lost the Election but Changed Politics" looks at those who lost their party's presidential nomination back in history (before 1996). The shows will originate from the historic places associated with each figure.
It begins Sept. 9 with a look at Henry Clay, whose compromising skills would have him read out of Congress today. It will originate from his Ashland estate in Lexington, K.Y.
Other notable names in the series includes William Jennings Bryan Sept. 23, Eugene Debs Sept. 30, Al Smith Oct. 14, Thomas E. Dewey, right, Oct. 28, George McGovern Dec. 2 and conclude with Ross Perot Dec. 9.
An overview Sept. 2 at 8 p.m. will feature an overview of the series from a roundtable of historians, C-SPAN style. The regular show time will be 9 p.m. EDT.
The full schedule follows.
Henry Clay, Ashland Estate, Lexington, Ky., Sept. 9
James G. Blaine, Blaine House, Augusta, Maine, Sept. 16
William Jennings Bryan,  Fairview Home, Lincoln, Neb. Sept. 23
Eugene Debs, Debs Home, Terre Haute, Ind., Sept 30
Charles Evans Hughes, Washington, DC, Oct. 7
Al Smith, Albany, N.Y., Oct. 14
Wendell Willkie, Rushville, Ind., Oct. 21
Thomas E. Dewey, New York, Oct. 28
Adlai Stevenson, Stevenson Family Farm, Libertyville, Ill., Nov. 4
Barry Goldwater, Arizona, Nov. 11
Hubert Humphrey, Minnesota Historical Society, St. Paul, Nov. 18
George Wallace, Montgomery, Ala., Nov. 25
George McGovern, McGovern Center for Leadership, Mitchell, S.D., Dec 2
Ross Perot, Texas, Dec. 9