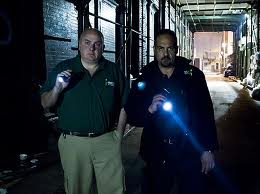 If there's something strange in your neighborhood, who ya gonna call?
"Rat Busters NYC" (Animal Planet, 10 p.m.) is a new series about a pair of middle-aged exterminators in Gotham, where there are more rats than people, and there are 8.3 million people. Some people say there are four rats for every person so, you do the math. There's enough to keep Jimmy Tallman and Michael Moreales of Magic Exterminating busy every week.
Seems a bit odd that a network dedicated to animals would have a show depicting the mass death of them, but there you go. The main complaint about the show is that the personalities are not as strong as exterminators elsewhere (that is to say: They have neither Southern accents nor mullets).
Meanwhile, the workers on "Tanked" (Animal Planet, 9 p.m.) continue to build fancy homes for fish, but not a "Shark Tank" (ABC, 8 p.m.), which is a show that has neither fish nor animal. Instead, would-be entrepreneurs. Plus it's a rerun.
Speaking of rats, one of the members of the Rat Pack who was also brother in law to JFK, Peter Lawford, is the star of the day on Turner Classic Movies, with "Good News" (8 p.m.) kicking off prime time, followed by "It Should Happen to You" (10 p.m.), "Salt and Pepper" (11:45 p.m.), "Hook, Line and Sinker" (1:30 a.m.) and "Little Women" (3:30 a.m.).
It's sort of fascinating to watched the episodes of the failed comedy "Friends with Benefits" (NBC, 8 and 8:30 p.m.) being burned off,  two by two, week after week. Maybe because we know there won't be more.
One of my colleagues actually thinks "Strike Back" (Cinemax, 10 p.m.) is a good show. Maybe he was kidding. Tonight, Latif is trailed to South Africa, while Scott switches places with a computer hacker.
Admit I haven't been keeping up with the series "Sex Change Hospital" (Discovery Fitness, 10 p.m.), though probably "The Soup" (E!, 10 p.m.) has been.
Big "True Blood" (HBO, 8 p.m.) catch up night, with the three most recent episodes back to back.
Café Tavolini in Bridgeport, Conn., is fixed again in a "Kitchen Nightmares" (Fox, 8 p.m.) rerun.
"Karaoke Battle USA" (ABC, 9 p.m.) invades another city.
For the seventh season finale, Bear Grylls turns the cameras on the unsung technicians who accompany him on his "one-man trips" for "Man vs. Wild" (Discovery, 9 p.m.).
And now a real choice in preseason football: Green Bay at Indianapolis (CBS, 8 p.m.) or the kickoff of the Lingerie Football Season on "LFL Presents: Friday Night Football" (MTV2, 10 p.m.).
In tennis the New Haven Open (ESPN2, 7 p.m.) gets some national coverage. But how did "The Bad News Bears in Breaking Training" (ESPN Classic, 8 p.m.) end up on ESPN Classic?
Couple of good movies on tonight include "Juno" (Bravo, 9 p.m.) and "Taxi Driver" (IFC, 8 p.m.). Too bad you've seen both about a million times.
Bad timing for the Forest Whitaker basketball film "Hurricane Season" (TMC, 8 p.m.).
"Doctor Who Confidential" (BBC America, 9 p.m., 10:15 and 11:30 p.m.) are 15 minute breaks that provide a chance for actors from "Doctor Who" (BBC America, 8 and 9:30 p.m.) to discuss this season.
Daytime Talk
Regis and Kelly: Will Ferrell, Tom Selleck. The View: Sarah Silverman, Glenn Lowry, Rahna Reiko Rizzuto (rerun). The Talk: John Stamos, Scott Wolf, Michelle Rhee (rerun). Ellen DeGeneres: Kellie Pickler, Greyson Chance, Justin Bieber (rerun). Wendy Williams: John Edward, Charo (rerun).
Late Talk
David Letterman: Aaron Rogers, Martin Lawrence, Steel Magnolia (rerun). Jay Leno: Louis C.K., Richard Engel, Raphael Saadiq featuring Robert Randolph  (rerun). Jimmy Kimmel: Hank Azaria, Jim Sturgess, the Lonely Forest (rerun). Jimmy Fallon: Justin Timberlake, Rose Byrne, Emmylou Harris (rerun). Craig Ferguson: Shirley Manson, Tory Belleci, Marina Franklin. Carson Daly: Frenchie Davis, Lost in the Trees, the Knux (rerun). Chelsea Handler: Christopher Mintz-Plasse, Brad Wollack, Fortune Feimster, Bill Bellamy (rerun).