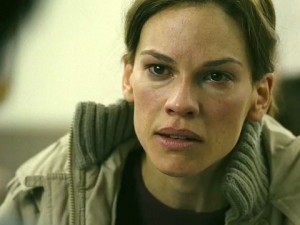 Good night to stay in and watch a movie while the power lasts.
Hilary Swank turns in a tough performance in "Conviction" (HBO, 8 p.m.) about a woman who goes to law school tohelp free her brother from jail.
The animated "Tangled" (Starz, 9 p.m.) , with the voices of Mandy Moore and Zachary Levi in the remake of the Rapunzel story. Elsewhere, "Toy Story" (ABC Family, 8 p.m.) and "Toy Story 2" (ABC Family, 10 p.m.) are presented as a double feature.
Similarly Ice Cube's "Friday" (Encore, 8 p.m.) is followed by "Friday After Next" (Encore, 9:35 p.m.).
Northerners pay heed: The two hour special "You Don't Know Dixie" (History, 8 p.m.) celebrating Southern culture, is followed by "Hillbilly: The Real Story" (History, 10 p.m.), hosted by Billy Ray Cyrus.
Sarah Jessica Parker is featured in both "Failure to Launch" (TBS, 8 p.m.) and "Sex and the City 2" (More Max, 9 p.m.).
Just about every contemporary leading lady is busy tonight in various movies from Reese Witherspoon in "Sweet Home Alabama" (E!, 8 p.m.), Drew Barrymore in "Going the Distance" (HBO Signature, 9 p.m.), Jennifer Lopez in "Enough" (Lifetime, 9 p.m.), Jodie Foster in "Panic Room" (TV Guide Network, 9 p.m.).
All may be remembered one day like Linda Darnell eventually was. The star from the 40s gets the showcase on Turner Classic Movies today (though it would have been great if it had been Irene Dunne instead). Tonight, Darnell is featured in "A Letter to Three Wives" (8 p.m.), "Star Dust" (10 p.m.), "Hangover Square" (11:30 p.m.), "No Way Out" (1 a.m.), "Everybody Does It' (3 a.m.) and "Day-Time Wife" (4:45 a.m.).
For the third season finale of "Pit Boss" (Animal Planet, 10 p.m.), Shorty gets in another argument with Sebastian. Again.
Want to live in a one room apartment in the Trump International Hotel and Tower in Chicago? A unit designed by Vern Yip is the latest prize in the "HGTV Urban Oasis 2011" (HGTV, 8 p.m.),
More city reports – albeit from New York ; are on "Color Splash" (HGTV, 9:30 p.m.) and "Home by Novogratz" (HGTV, 10 p.m.).
The upcoming bout of Floyd Mayweather and Victor Ortiz gets the reality treatment in "24/7 Mayweather/Ortiz" (HBO, 10 p.m.).
NASCAR (ABC, 7:30 p.m.) gets prime time as well with a Spring Cup Series race at the Bristol Motor Speedway in Tennessee.
It's New England at Detroit (CBS, 8 p.m.) in preseason NFL action.
Irene played havoc on sports, causing several games to move up start times by several hours or create doubleheaders with Sunday games. Also: The New Haven Open was moved to 1 p.m. from 5 p.m. to avoid the storm.
Cheap Trick is on "Austin City Limits" (PBS, 9 p.m., check local listings).
It's all Paul on "Saturday Night Live" (NBC, 11:30 p.m.) as musical guest Paul McCartney eclipses Paul Rudd's hosting in the repeat.