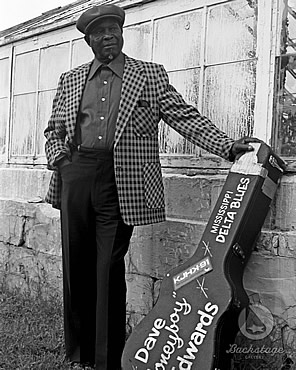 One of the last links with the blues greats of the early 20th century died early Monday morning.
David "Honeyboy" Edwards died in his sleep in Chicago. He was 96.
In his time he played with Big Joe Williams, was a pal of such mythological giants as Robert Johnson, Charley Patton and Johnny Shines.
Edwards was also supposed to have been there when Johnson died – after drinking poisoned whiskey from a jealous husband.
Like many bluesmen in the South, Edwards was recorded by Alan Lomax in field recordings from the 1940s and re-emerged two decades later to have his own career before a country that was slowly beginning to hail its own blues giants.
He lived long enough to get some recognition, with a Grammy for best traditional blues album in 2008 and a lifetime achievement award just last year.
And he played on the road almost to the end, playing a festival in Greenville, Miss., in April before his health got bad in May.
A visitation Thursday from 6 to 9 p.m. will provide an open mike for friends and fans to comment; burial will be private on Friday.