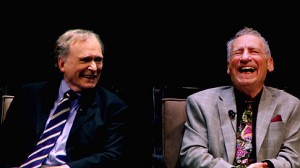 It's been more than 30 years since the heyday of "The Dick Cavett Show," a late nght program that really concentrated on good  conversation.
Cavett has been called back into service on TV occasionally since then. But in the special "Mel Brooks and Dick Cavett Together Again" (HBO, 9 p.m.), he treats the interview with the man with a long career in showbiz as if it is an extended very special episode of his old show. With saltier language, and no commercials.
It's just a coincidence that their exchange is followed by the movie "Dinner for Schmucks" (HBO, 10 p.m.)?
The successful British/American hybrid, "Torchwood: Miracle Day" (Starz, 10 p.m.) reaches its finale after another too short season.
"Karaoke Battle USA" (ABC, 8 p.m.) gets to its semifinals, with absolutely no fanfare whatsoever.
Among the tenth-anniversary fare tonight is"9/11: Timeline of Terror" (Fox News, 10 p.m.) and "9/11: The Days After" (History, 9 p.m.), in which people recall the various changes in the post 9/11 world. And "Need to Know" (PBS, 8:30 p.m., check local listings) dedicates its weekly episode to the anniversary.
How does "20/20" (ABC, 10 p.m.) score the first glimpse of the new Disney musical "Newsies"? Well, for one thing Disney owns ABC.
The designer Garo Sparo is enlisted to do personal makeovers on the new series "Unleashed by Garo" (Sundance, 9 p.m.), premiering in conjunction with Fashion Week.
Neil Patrick Harris portrays a sinister singing doctor who is after the gang of birds in the spin-off specail "The Penguins of Madagascar: Blowhole Strikes Back" (Nickelodeon, 8 p.m.).
Cast your eyes on the last ever episodes to be made of the comedy "Friends with Benefits" (NBC, 8 and 8:30 p.m.). If the network hated it so much, to burn it off quickly in late summer, why did it have it made in the first place?
In addition to his classic sitcom, Danny Thomas was something of a movie star as well. He's seen tonight on Turner Classic Movies in "I'll See You In My Dreams" (8 p.m.), about lyricist Gus Khan; the remake of "The Jazz Singer" (10 p.m.) and "Big City" (midnight).
Later, there's some disco cheese from the 80s – "Breakin'" (2 a.m.) and "Roller Boogie" (3:30 a.m.).
Will Smith stars in both "Hitch" (TNT, 8 p.m.) and "Men In Black" (Starz,, 8:21 p.m.).
Daytime Talk
Regis and Kelly: Lauren Graham, Kara DioGuardi, Stephen & Robbie Kesze, Seth Meyers. The View: Rudolph Giuliani, 9/11 Survivor Lauren Manning. The Talk: Pre-Empted. Ellen DeGeneres: Taylor Swift (rerun). Wendy Williams: Kim Cattrall, Alex McCord, Simon Van Kempen (rerun).
Late Talk
David Letterman: Julia Roberts, Cake (rerun). Jay Leno: Bill Maher, Octavia Spencer, Alice Cooper. Jimmy Kimmel: Kristin Chenoweth, Freddie Wong & Brandon Latsch. Jimmy Fallon: Lauren Graham, Joel Edgerton, Pearl Jam. Craig Ferguson: Alfred Molina, Brie Larson. Tavis Smiley: Blake Mycoskie. Carson Daly: John Lehr, the Hours, Lykke Li (rerun). Chelsea Handler: Lake Bell, Brad Wollack, Greg Fitzsimmons, Heather McDonald (rerun).