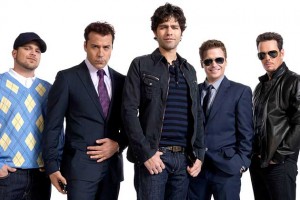 The gang on TV's "Entourage" (HBO, 10:30 p.m.) never seemed to grow up in their years in Hollywood. Eight years after one of the guys from the borough became a movie stars and brought out his pals to share a house, nothing approaching a grown up life seemed to tough the guys, who'd continue to cruise for girls and parties as they rode the wave of one man's success.
It was a a good run for the fellas on the show that helped shine a light on how things are done in Hollywood. And true to a series where nothing seriously bad seemed to befall any of the guys, the series finale tonight also promises to come without an earth-shaking climax.
"What was important to me more than any kind of story things was to leave it with an element of hopefully that the audience goes, 'We loved hanging with these guys, and we'll miss them,' " Creator Doug Ellin said of the finale at press tour after the finale had wrapped by then.
Unlike the notorious finale of another HBO series "The Sopranos," Ellin says, "it wasn't about leaving it open ended. It wasn't about closing up anything. It was really just kind of finding that moment, which, hopefully, we've achieved, that people go, 'Do you know what? I really had a good run with these guys.'"
So, he says, "there's no major deaths, no major things" that happen in the finale.
After all, that never happened in his favorite movie. "The movie 'Diner' was a big influence on me," Ellin says. "The end of the movie 'Diner' kind of left me with: Oh, I could see these guys in ten more movies because I just loved being with them."
And the guys in the cast share that feeling, they said at their last public appearance, at press tour.
"We are all choked up," said start Adrian Grenier. "Truthfully, we've been together for eight years. We've spent, you know, countless hours, you know, weeks, you know, creating something that we are all very, very proud of. And it's not only sad to say goodbye to each other but also what we've created. We are all very proud of it, and we know that we are going to have a lasting impact, and we'll always be connected to everybody on some level."
"It's very, very bittersweet for me," said Jerry Ferrara, who plays the character Turtle. "There's, like, some days where it's, like, excitement of starting new things and going in a different direction, and the very next day, I just will reflect back and be, like, wow, it's such a unique eight year run. "You just wonder," he says, "if it's ever going to be like that again. But we've all made some lifelong friendships that is probably the greatest thing that I got out of the whole thing."
"It's been hard," Kevin Connolly says. "Right from the beginning of the season, you were just faced with the series, like: this is the last season, you know. And then it was the last episode and the last week and the last day.
"It's been a hell of a run," Connolly says. "And it's certainly unique, and I just I don't know. I don't want to start crying."
Kevin Dillon, who plays one of the show's most popular characters, Johnny Drama, says "this has just been so much fun. And these guys are
so great. I'm going to miss them all. It's a tough act
to follow and one of the greatest things I've ever done
in my life."
Jeremy Piven, who has won a few Emmys for his role as Ari Gold, says "this season feels like our best, and it's so gratifying to finish this way.
"This character that I've been playing for eight years has been such a reactive character and takes up the oxygen in the room, and then to humanize him like the way he's going to be shown in this last season is just a gift that Doug gave me," he says. "I don't know if I earned it, but it sure has been an amazing ride. And so this character makes this emotional transformation, and it's kind of incredible to finish like this, and yet I think it will be gratifying for people to see it, and yet we've left ourselves in a position where, organically, I feel like we could transition into a movie or not."
"Entourage" ends its run on HBO Sunday at 10:30 p.m.