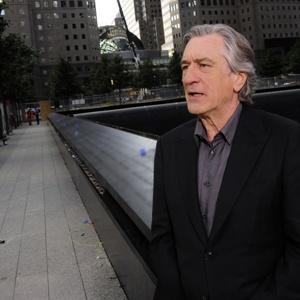 Robert De Niro, right, is enlisted to provide brief opening remarks to "9/11: Ten Years Later" (CBS, 8 p.m.), largely a replay of the original TV film by the French documentary filmmaking brothers who accidentally caught the first plane going into the World Trade Center ten years ago this morning and went on to be the only crew inside the building as the desperate rescue was under way (and the awful sound of bodies falling was recorded).
It is by no means the only 9/11 themed programming tonight.
Public television devotes the entire evening, from a "Nova" (PBS, 7 p.m., check local listings) that looks at the much delayed, still-continuing One World Trade Center near Ground Zero — something that is also the subject of "Making the 9/11 Memorial" (History, 9 p.m.).
Then there's a special "America Remembers: 9/11" (PBS, 8 p.m., check local listings) followed by an oft-played piece in connection with the date, Mahler's Symphony No. 2, "Resurrection" on "Great Performances" (PBS, 9 p.m., check local listings). Is performed in the New York Philharmonic 10th Anniversary Concert for 9/11.
Amid all this, "The Space Between" (USA, 9 p.m.) is an unusual offering – an original film about a grounded flight attendant who drives a Pakistani/American boy to New York just after 9/11. Oscar winner Melissa Leo (of "Treme") stars.
"From the Ground Up" (OWN, 10 :15 p.m.)features  five widows of fire fighters lost in 9/11 talk about their struggles.
"Rebirth" (Showtime, 9 p.m.) (see post) follows the emotional distance traveled by five people closely affected by 9/11.
Dick Wolf produced "Twin Towers" (USA, 10:21) an award winning documentary short about a cop and fireman on the fateful day.
VH1, for its part, resurrects "The Concert for New York" (VH1, 7 p.m.), the four hour concert at Madison Square Garden from Oct. 2001.
Even the films on Turner Classic Movies are part of a 9/11 theme as a pair of first responders form that day, Patrick McNally and Vernon Webb, choose the movies tonight. Their choices: "Casablanca" (8 p.m.), "Mister Roberts" (10 p.m.), "All the Young Men" (12:15 a.m.) and "Red River" (2 a.m.).