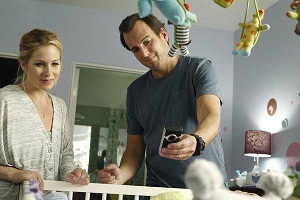 With a half dozen new and returning shows tonight, you might be fooled into thinking that the fall season is here on broadcast TV.
It certainly has one of the best shows of the season premiering.
A young couple navigating a new baby is not exactly new territory but "Up All Night" (NBC, 10 p.m.) has a freshness, a tinge of reality and an edge of funniness, getting the best out of its cast of pros, led by Will Arnett in his best TV role yet and Christina Applegate.
The ace in the hole is Maya Rudolph, who steals about every scene she's in as the boss who keeps tugging at Applegate's character to get back to work. The show, from Lorne Michaels and Emily Spivey, was retooled at the last minute to expand her role from an eccentric PR agent to an "Oprah" like talk show host (with Nick Cannon added as sidekick).
At its core, though, is the couple with their ever-relatable home life.
It's a breath of fresh air especially compared to the show with which it's paired. "Free Agents" (NBC, 10:30 p.m.) is about an ill-fated office romance that starts with remorse and humiliation and didn't improve much from there.
It's a waste of the talents of Hank Azaria who himself seems unsure about his pairing with Kathryn Hahn. Some of the office personalities lighten things up, such as Al Madrigal, lately of "The Daily Show." But the near-constant talk of sex undercuts the occasional witty banter. Chalk it up as another remake of a British comedy that doesn't survive the translation. See for yourself when BBC America runs the original British version (with Stephen Mangan of "Episodes" in the Azaria role) next month.
The regular time slot for the two new comedies will be 8 and 8:30 p.m. next week. They show late tonight to make way for the season finale of "America's Got Talent" (NBC, 8 p.m.), the popular summer show that will crown a $1 million winner from among two unusual dance troupes, a jazz singer and a musical group.
Reality fans ought to be cheering the return of "Survivor: South Pacific" (CBS, 8 p.m.) for a new season. As with last season, a group of newcomers will be joined by two veteran players, Ozzy Lusth and the Coach, Benjamin Wade. Jeff Propst, who just won his fourth consecutive Emmy as host, presides.
It's followed by the season finale for "Big Brother" (CBS, 9:30 p.m.), which also fell victim to the ploy of bringing back old players, though just one of them, Rachel, remains in the final three with superfan Adam and Porsche, both of whom were accused of coasting all summer but came up with big wins late.
It's all former players on the first all-star edition of "America's Next Top Model" (The CW, 9 p.m.). The 14 returning contestants in the 17th "cycle" may not be household names, but some of the guest judges this time will be; among them are Nicki Minaj, Kathy Griffin, LaToya Jackson, Ashlee Simpson, Taylor Beckford and Kristin Cavallari.
It comes after one of the worst shows of the new season. The premise of  "H8R" (The CW, 8 p.m.) is to ensure that celebrities are prevented from enduring a single dis from the minions. Who cares if someone doesn't care for Snookie? Well, Snookie for one. So Mario Lopez stages an intervention so that the hater can meet the object of his derision. It may be the most useless use of mediation ever televised.
Representing a totally different world on TV is the quality drama that almost nobody saw this season, "Damages" (DirecTV, 10 p.m.), which reaches its satellite-only finale tonight. The rest of us will have to wait for the DVD box set.
A first season finale also comes for the football-shrink saga "Necessary Roughness" (USA, 10 pm.) which features a guest spot from Terrell Owens.
It's also the last episode for both "Deadliest Warrior" (Spike, 10 p.m.) and for "Buried Treasure" (Fox, 9 p.m.).
Elsewhere, Chef Robert Irvine brightens up a gloomy restaurant in California on a new "Restaurant: Impossible" (Food, 10 p.m.).
Two aggressive crocs need to be removed on "Swamp Brothers" (Discovery, 10 p.m.).
The anniversary of "Willy Wonka and the Chocolate Factory" is the theme of the competition on "Top Chef: Just Desserts" (Bravo, 10 p.m.).
The Oscar nominated documentary short "Killing in the Name" (HBO2, 8 p.m.) tells the story of a Muslim man whose wedding is bombed by a suicide bomber, killing 27 family members, and now he wants to find out why.
Robert Osborne does the choosing tonight on Turner Classic Movies, with "The Story of Temple Drake" (8 p.m.), "The Mating Season" (9:15 p.m.), "Thank Your Lucky Stars" (11 p.m.), "The Hoodlum" (1:15 a.m.), "The Hoodlum Priest" (2:30 a.m.) and "Boys' Town" (4:15 a.m.).
Daytime Talk
Regis and Kelly: Pierce Brosnan, Meredith Vieira. The View: Jane Fonda, Michael Moore. The Talk: Josh Charles, Kathryn Hahn, guest co-host Molly Shannon. Ellen DeGeneres: Jon Cryer, Chaz Bono, Taylor Swift. Wendy Williams: Michael Bolton, Mehcad Brooks.
Late Talk
David Letterman: Alec Baldwin, Joe Namath, Lenny Kravitz (rerun). Jay Leno: Jane Lynch, Demetri Martin, Needtobreathe. Jimmy Kimmel: Ty Burrell, Little League World Series champions, Cake. Jimmy Fallon: Greg Kinnear, Bear Grylls, Neon Indian, Trombone Shorty. Craig Ferguson: Dancers from the Moulin Rouge, danny DeVito, Olivia Munn. Tavis Smiley: Lenny Kravitz. Carson Daly: Charles Bradley, Spencer Susser, Grouplove (rerun). Jon Stewart: Common. Stephen Colbert: Michael Moore. Conan O'Brien: Tyra Banks, Glenn Howerton, the Sklar Brothers. Chelsea Handler: Kate Bosworth, Natasha Leggero, Mo Mandel, Gary Valentine.