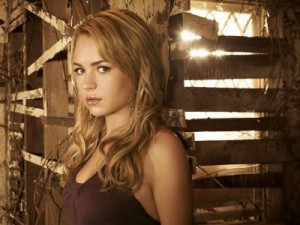 Bummers all around to start the new series "The Secret Circle" (The CW, 9 p.m.), Cassie spins out in a car wreck about the same time her mom is killed in an arson's blaze. That brings the teen to grandma's house to start school in a town where, she learns, is packed with witches and by the way, she's one too.
It seems like we've seen it all before, and star Britt Robertson, left, looks weary not only to be part of a sketchy coven, but to be in another CW drama (she was at the center of "Life Unexpected"). Lots of lovely young people people the show, with slightly older beautiful people playing their parents and grownups. But how is this thing going to even rise to the level of "Charmed"?
It's all a ploy to keep the fans sticking around after the third season start of "The Vampire Diaries" (The CW, 8 p.m.), where Elena is turning 18.
It's always good news that "It's Always Sunny in Philadelphia" (FX, 10 p.m.) is back with more twisted fare and this season, for art's sake, Rob McElhenny has gained 50 pounds – you know, like De Niro. Tonight, Danny DeVito's Frank has fallen for a prostitute and the gang tries to spruce her up before the proposal in a failed attempt at "Pretty Woman."
It comes with an equally bent season opener for the animated spy caper "Archer" (FX, 10:30 p.m.).
After a half dozen new and returning shows Wednesday, it seems back to rerun doldrums tonight, or two hours of the season finale of "Wipeout" (ABC, 8 pm.).
Two of the shows introduced last night back for another view. One is worth it, "Up All Night" NBC, 8:30 p.m.); the other "Free Agents" (NBC, 9:30 p.m.) not so much, and everything else reruns.
It's almost like going back to May, with season finales of "The Mentalist" (CBS, 9 and 10 p.m.) and "Grey's Anatomy" (ABC, 10 p.m.).
On cable, a mom tries to become a roller derby queen on "CMT Made" (CMT, 8 and 10 p.m.).
It's off to the Italian beach on "Jersey Shore" (MTV, 10 p.m.). Julia Roberts is also in Italy for part of "Eat Pray Love" (Starz, 9 p.m.). Hope they all don't run into eachother.
Kat decides to open a second tattoo shop in Austin, belying the title of her series "LA Ink" (TLC, 10 p.m.).
In advance of his roast telecast next week, Charlie Sheen can be seen in "Wall Street" (HBO Signature, 8 p.m.), in "Charlie Sheen" (BIO, 10 p.m.) and chatting on "The Tonight Show with Jay Leno" (NBC, 11:35 p.m.).
Way too much Nicolas Cage on tonight with "The Sorcerer's Apprentice" (Starz, 6:56 p.m.), "Lord of War" (IFC, 7:05 p.m.) and "Gone in 60 Seconds" (ABC Family, 8:30 p.m.).
If you haven't seen it, I highly recommend the film biography of Bill Withers, "Still Bill" (TMC, 8 p.m.).
The Thursday night Merchant-Ivory salute on Turner Classic Movies continues with "The Remains of the Day" (8 p.m.), "Howards End" (10:30 p.m.), "A Room with a View" (1 a.m.) and "Maurice" (3 a.m.)
Daytime Talk
Regis and Kelly: Zooey Deschanel, Tim Gunn. The View: Gerard Butler, Kurt & Brenda Warner, Caroline Kenedy. The Talk: Valerie Harper, "Big Brother" winner, Perez Hilton, Kris Jenner. Ellen DeGeneres: Eva Longoria, Greyson Chance. Wendy Williams: Carson Kressley.
Late Talk
David Letterman: Kirstie Aley, Louis C.K., Fountains of Wayne (rerun). Jay Leno: Charlie Sheen, Kevin Hart, LMFAO. Jimmy Kimmel: Steve Buscemi, Lily Collins, Ziggy Marley. Jimmy Fallon: Zooey Deschanel, Jason "Mayhem" Miller, Jean-Georges Vongerichten. Craig Ferguson: Sigourney Weaver, Ted Aleandro. Tavis Smiley: Kwame Kilpatrick, Kristin Davis. Carson Daly: Sean Casey, Girl Talk, Interpol (rerun). Jon Stewart: Caroline Kennedy. Stephen Colbert: David Copperfield. Conan O'Brien: Ashton Kutcher, Jeb Corliss, Foo Fighters. Chelsea Handler: Kathryn Hahn, Josh Wolf, Fortune Feimster, Greg Proops.