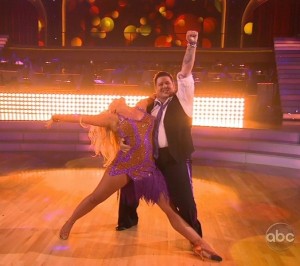 The 12th season of "Dancing with the Stars," they've moved into a huge, barn-like studio, with a big wide floor, an orchestra that can be pneumatically lifted from the ground and a stairway to a star holding area so long and steep, it's almost meant to make them breathless in time for their interview with Brooke Burke-Charvet, the co-anouncer, whose names seems to have expanded with the studio.
The weirder than usual group of celebrities brought largely shrugs and grunts from the assembled judges, especially Len Goodman. And suddenly, it seemed clear that taking a random group of celebrities won't necessarily result in much good dancing – maybe no good dancing.
Things started low, with flamboyant NBA star Ron Artest (they mentioned his strange new, legal name but didn't call him Metta World Peace). For the occasion, he also dyed his hair blonde save for some illegible message embedded in it.
His scores of 4, 5 and 5 for a cha cha put him among the lowest scoring celebs ever. Not faring much better was Elisabetta Canalis, a "model and actress" best known for briefly dating George Clooney, who got a 15 for her own cha cha attempt.
Rob Kardashian, his much famous sisters in the stands, got only a 16 a did a surprisingly bloated Nancy Grace. Chaz Bono and Carson Cressley (dancing separately) got a lot of lip service for being entertaining and having good attitudes, but their dance scores were a lowly 17 each.
David Arquette may be the most famous actor in the bunch (though the movie series he was cited as being known for was the 'Scream" flicks) but could only muster an 18.
Tied at first place was former pop singer Chynna Phillips and the disfigured former veteran turned soap actor J.R. martinez, with 22 each.
Finishing second was soccer star Hope Solo with 21; rounding out the top were Ricki Lake with 20 and Kristin Cavilleri with 19.
One will be voted off Tuesday; there's more than enough candidates for ouster to choose.