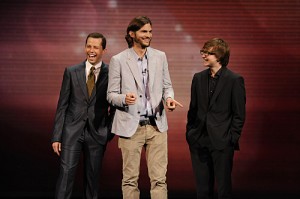 There was a bit of wicked glee in the much-anticipated season premiere of "Two and a Half Men" Monday. Creator Chuck Lorre not just fired Charlie Sheen earlier this year, he killed off his character and cremated his remains.
And then, through the dust of a spilled urn of his ashes, emerged his movie star replacement, Ashton Kutcher.
The show's opening began with Jon Cryer addressing a funeral mostly attended by exes who had been left with sexual disease and were glad to see him go. Only one of Charlie's iconic shirts hung amid the funereal flowers to witness the demise.
And while there were weird (and wrongheaded) flirtations with who was rumored to be the Sheen replacement – John Stamos, then Dharma and Greg – Kutcher appeared at the halfway point.
He was just the lovesick billionaire who was able to afford to buy the beach house and likely to let Cryer's character and his son (who hardly had a role in the premiere other than farting) stay on and live with him.
Kutcher seemed to have washed up on the set without much preparation. His approach was total Kelso – as if he were still on the set on "That '70s Show."
The show continued its usual plot points of three-ways, fake nudity and athe kind of singular fascination with male genitalia as a source of humor any 13 year old would be in awe of.
Mostly, the show was scarcely changed by the removal of Sheen. It was still the crudest 8 p.m. show ever broadcast and it wasn't ever funny.