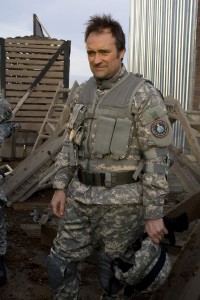 "Saturday Night Live" (NBC, 11:30 p.m.) returns for its 37th season, a remarkable run in TV any time of the day, but especially for topical weekend live comedy.
Alec Baldwin returns to host for a record 16th time and break the tie he and Steve Martin had, with each hosting 15 times over the years; no less than Radiohead is musical guest.
For the first time in years, there is no change in the cast, that includes Fred Armisen, Abby Elliott, Bill Hader, Seth Meyers, Bobby Moynihan, Andy Samberg, Jason Sudeikis, Kenan Thompson and Kristen Wiig in the main cast; and Vanessa Bayer, Paul Brittain, Taran Killam, Nasim Pedrad and Jay Pharoah as featured players.
There are also one or two things that happened since May for the writing staff to draw on.
Morlocks by legend come from the future, but they actually originate from the past. H.G. Wells made up the species for his classic "The Time Machine" in 1895. The Morlocks are humanoid monsters who devolved in the 8,028th century. They have since returned in a number of films, comics and fiction, including tonight's new made-for-TV "Morlocks" (Syfy, 9 p.m.) that uses time traveling to find them. David Hewlett, right, of the "Stargate" series, stars as a military man who only wanted to find a cure for his son's cancer.
Other movies on cable tonight include the sequel "Little Fockers" (HBO, 8 p.m.), Will Ferrell in "The Other Guys" (Starz, 9 p.m.), and the super violent "Hatchet II" (Cinemax, 10 p.m.).
It lost at the Emmys last weekend but all three parts of the Golden Globe-winning miniseries "Carlos" (Sundance, 6:30 p.m.) run tonight.
Sen. Kay Bailey Hutchison, GE CEO Jefrey Immelt, GM CEO Dan Akerson are part of a forum on the U.S. Job crisis on "Restoring the American Dream: Back to Work – A Fareed Zakaria GPS Special" (CNN, 8 p.m.).
Daniella Monet of "Victorious" appears on "Super Ninjas" (Nickelodeon, 9:30 p.m.).
Because it's been their biggest hit show ever, the "The Roast of Charlie Sheen" (Comedy Central, 10 p.m.) is on again.
And networks want to give you another chance to see their premieres this week, such as "Harry's Law" (NBC, 8 p.m.), "Person of Interest" (CBS, 8 p.m.), "Prime Suspect" (NBC, 9 p.m.), "Unforgettable" (CBS, 9 p.m.) and "Law & Order: Special Victims Unit" (NBC, 10 p.m.).
There's a pretty great Rodgers & Hart lineup on Turner Classic Movies with "Love Me Tonight" (8 p.m.), "Hallelujah, I'm a Bum" (10 p.m.), "Hollywood Party" (11:30 p.m.), "Evergreen" (12:45 a.m.) and "I Married an Angel" (2:30 a.m.)
The is a lot of college football on today, including LSU at West Virginia (ABC, 8 p.m.), Nebraska at Wyoming (VS., 7:30 p.m.), Missouri at Oklahoma (FX, 8 p.m.), Florida at Kentucky (ESPN, 7 p.m.) and Louisiana Tech at Mississippi State (ESPNU, 7 p.m.),
Last week's controversial bout gets a replay, minus the pay-per-view pricetag: Mayweather vs. Ortiz: From Las Vegas (HBO, 9:45 p.m.).