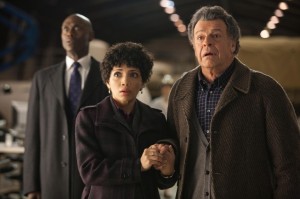 It's the night when the supernatural most infuses network shows – so a couple of them drift there. Not just the literal "Supernatural" (The CW, 9 p.m.) in its third  season. But also "Fringe" (Fox, 9 p.m.), the often overlooked show that is the best of the remaining J.J. Abrams shows on TV.
But is it too late to jump into the show at this point even if you haven't been watching? Maybe. By now the parallel universes have been bridged and there's been a victim – Peter Bishop is missing. In the mean time, the season opener tonight contains a big scene supposedly set in Hartford – with a big downtown establishing shot and those big block letters, and an agent who apparently lives across the street from the Mark Twain House.
"Fringe" is still a frisky little sci-fi show, with a lot of interesting ideas, a great cast and a good dollop of humor. It will make you wish you've been watching all along. Maybe in a parallel universe.
"Fringe" and "Supernatural" aren't the only shows that have moved to Fridays; "Chuck" will be coming too, on Oct. 21.
And "Nikita" (The CW, 8 p.m.) finds a new slot, as the good-looking action show (that makes the new "Charlie's Angels" look like the "Powerpuff Girls") begins its second season.
For the eighth season opener of "CSI: NY" (CBS, 9 p.m.), the team recall what happened on 9/11 on the 10th anniversary.
For the New York cops on "Blue Bloods" (CBS, 10 p.m.), a new mayor is elected and one of his supporters is murdered on the second season start.
Gordon Ramsay can't spend a couple of days without a new series starting, so here comes the fourth season of "Kitchen Nightmares" (Fox, 8 p.m.) with the overworked chef trying to fix a family restaurant in Plainfield, N.J.
A lot of networks give you the opportunity to see some of their premieres one more time – the two episodes of "Modern Family" (ABC, 8 p.m.) from Wednesday, and the premiere of "Revenge" (ABC, 9 p.m.) that followed. The premiere of "Whitney" (NBC, 8:30 p.m.) and the second episode of "Up All Night" (NBC, 8 p.m.).
They're rebranding "Dateline NBC" (NBC, 9 p.m.) as a kind of play-along mystery show, brought to you by the news department.
A pint sized vocal competition on the Hasbro-owned network has a kind of anti-Simon Cowell ethos: No eliminations, no criticism and no dream-bashing. So delusions soar with the attempted vocals among the team assembled on "Majors & Minors" (The Hub, 8 p.m.).
"All My Children" (ABC, 1 p.m.) ends its run after 41 years. Susan Lucci can't catch a break! Fans have been excited about the stories all week. Next week, it will be replaced by a cheaper to produce talk show about food. The show's legacy is also the subject on "The View" (ABC, 11 a.m.).
Michael Moore, Tom Morello, Ron Suskind, John Avlon and Rep. Jane Harman are the scheduled guests on a new "Real Time with Bill Maher" (HBO, 10 p.m.). earlier, Maher questions faith in his 2008 film "Religulous" (IFC, 7:45 p.m.).
Once, Friday was a reliable place for news and commentary on public television. Starting tonight, "Washington Week with Gwen Ifill" (PBS, 8 p.m., check local listings) and "Need to Know" (PBS, 8:30 p.m., check local listings) are jammed into a one hour slot.
In search of ancient treasure? They are in "King Solomon's Mines" (TCM, 8 p.m.), "National Treasure" (Bravo, 9 p.m.), "Boy on a Dolphin" (10 p.m.) and "The Golden Mask" (TCM, midnight).
The first version of "Tron" (Flix, 9:45 p.m.) also starred Jef Bridges.
And there's a couple of weird films from 1973: "Five on the Black Hand Side" (TCM, 2 a.m.) and "Sweet Jesus, Preacher Man" (TCM, 3:45 a.m.).
Daytime Talk
Regis and Kelly: Christina Ricci, Elizabeth Hurley, Dana Carvey. The View: Agnes Nixon, "All My Children" salute. The Talk: Jane Kaczmarek, Phil Koeghan, Molly Shannon, Kris Jenner. Ellen DeGeneres: Jamie Foxx, Dr. Drew Pinsky, Elisabetta Canalis & Valentin Chmerkovskiy. Wendy Williams: Ty Pennington & Patti Stanger, Elmo & Cookie Monster, Tim Stack.
Late Talk
David Leterman: Nathan Fillion, Karen Rontowski, the Jayhawks. Jay Leno: Hugh Jackman, Mana Rudolph, Tony Bennett. Jimmy Kimmel: Ty Burrell, Little League World Champions, Cake (rerun). Jimmy Fallon: Taylor Lautner, Florence Henderson, Beyonce, Craig Ferguson Gerard Butler, Kat Dennings, tavis Smiley: Sonny Rollins. Carson Daly: Game, Melanie Pullen, Thievery Corporation. Chelsea Handler: Kathryn Hahn, Josh Wolf, Fortune Feimster, Greg Proops (rerun).