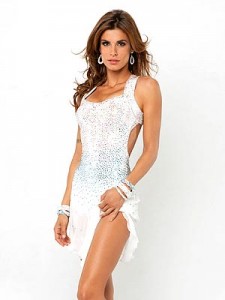 Models don't last long on "Dancing with the Stars" – even if they are the most improved dancer of the week, and only two points below the top judges' score.
That was the case for Elisabetta Canalis Tuesday. She and her partner were the second to be eliminated from the show, despite an average judges' score that was above those of two other stars. But the Italian-born Canalis, 33, listed as model and actress, may have been one of the more unfamiliar names of the season. (What, you missed her in "Deuce Bigalow: European Gigolo"?). She is known chiefly for having dated George Clooney for a time.
Her quickstep to The Pretenders' "Don't Get Me Wrong" Monday earned straight 7s from the judges and the 21 total was a big improvement over her cha cha that earned 15 the first week.
"It was a great adventure, I want to thank everybody," Canalis said at the end, in suddenly a much stronger accent.
"I'm very proud of her. I'm sorry I wish I did better for her,' said her professional partner, Valentin Chmerkovskiy, a brother to the longer term dancer Maksim Chmerkovskiy.
The ouster may have been more about him than her; for the second week in a row, it was a first-year pro dancer who was eliminated. Especially in a season when the star power is low, home viewers may be voting more for the familiar dancers that they know rather than ones they don't.
Chaz Bono, who had the lowest judges scores this week, was briefly in the bottom three but was declared safe before Canalis and David Arquette, identified as the two lowest vote-getters.