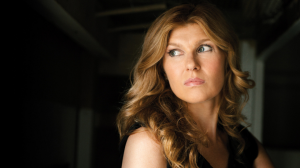 It may throw you to say that the saucy new "American Horror Story" (FX, 10 p.m.) is from the creators of "Glee." What makes more sense is that it's from the guys behind "Nip/Tuck."
As in that show, Ryan Murphy wants to shock you a little, mess with your mind with some heightened drama and snappy dialog.
Here, he and Brad Falchuk are paying homage to every horror movie from the early 70s. There are all kinds of riffs from "The Shining" to "Rosemary's Baby." Theme music in the promos is from Mike Oldfield's "Tubular Bells," which served as soundtrack for "The Exorcist."
Murphy's used Downs syndrome actors for effect in "Glee," and he does so again in "Horror Story," in which a child warns of the horror of a Boston family's new goth-like California home.
The family pulled out of Boston to put a recent infidelity by the husband behind them. They spend an awful lot of time on the phone. And there's a malevolent creature lurking in the basement.
The creative teams have great fun in telling this story with a kind of exuberance that makes if compelling even when you know that it's prone to more train-wreck plot turns. How else could a story like this maintain?
"American Horror Story" has a great cast, led by Connie Britton, above, recently of "Friday Night Lights," and Dylan McDermott, in his best role in a long time. A well cast Jessica Lange plays a strange next door neighbor with a Southern accent and a touch of vengeance. Alexander Breckenridge plays a sultry maid, who upon touch turns into the markedly older Frances Conroy. And Denis O'Hare, fresh from "True Blood," plays a frightful man full of warning.
Part of the horror here is in the abstract; in meanings and symbols and shadings. It's the kind of story that will engross viewers and have them try to figure things out from week to week.
Thank goodness the auditions are over on "The X Factor" (Fox, 8 p.m.). Now comes boot camp, in which they are whipped into shape and divided among judges, who will train and mentor them.
In a new series from the entertaining magician duo, "Penn & Teller Tell a Lie" (Discovery, 10 p.m.) , they say seven hard to believe stories; viewers must determine which one is a fake.
"Real World" (MTV, 10 p.m.) has started a new season in San Diego, if like me you haven't been paying close attention. Increasingly the roomates seem  hard to take; they all consider the opportunity one to party nonstop and hook up. Wasn't there once more a purpose? Maybe not.
Manny gets a hand selling charity wrapping paper on "Modern Family" (ABC, 9 p.m.).
"CSI" creator Anthony Zuiker is guest judge on "America's Next Top Model" (The CW, 9 p.m.).
Hidden immunity idols are more the thing of myth on "Survivor: South Pacific" (CBS, 8 p.m.).
"Halloween" director John Carpenter is guest programmer on Turner Classic Movies tonight and he picks some oldies: "The Thing from Another World" (8 p.m.), "It! The Terror from Beyond Space" (9:45 p.m.), "Rio Bravo" (12:30 a.m.) and "The Wackiest Ship in the Army" (3 a.m.).
Daytime Talk
Regis and Kelly: Sugar Ray Leonard. The View: William Shatner, Mrs. Q. The Talk: Emily Proctor, Eliza Coupe, Molly Shannon, Carnie Wilson, Sheryl Underwood. Ellen DeGeneres: Kim Kardashian, Kris Humphries. Wendy Williams: Gloria Estefan, Ana Gasteyer.
Late Talk
David Letterman: George Clooney, Mastodon. Jay Leno: Tim Allen, Theresa Caputo, Scotty McCreery. Jimmy Kimmel: Will Arnett, Jane Levy, J. Cole. Jimmy Fallon: Shaquille O'Neal, Evan Rachel Wood, Portishead. Craig Ferguson: Joel McHale, Elizabeth Cook. Tavis Smiley: Leymah Gbowee. Carson Daly: Paul Haggis, Roll the Tanks, Fools Gold. Jon Stewart: Hugh Jackman. Stephen Colbert: Mos Def & Talib Kweli. Conan O'Brien: Flavor Flav, Curtis Stone, Tim Minchin (rerun). Chelsea Handler: Rachel Bilson, Bobby Lee, Arden Myrin, Dov Davidoff (rerun).