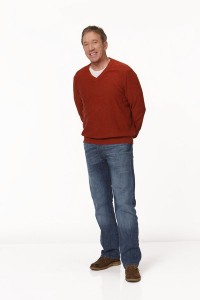 To find sitcoms of an older vintage, that seem like they're made with some of the sensibilities and often some of the jokes of the old network lineups, one usually has to turn to the new offerings from TV Land or maybe even Disney, where the vaudeville rhythms of three-camera sitcoms is being fed to the kiddies.
But while the new fall season is dominated by fresh sitcoms starring women with "New Girl," "Up All Night," "2 Broke Girls" or "Whitney" – the hoary "Last Man Standing" (ABC, 8 p.m.) is a throwback on many levels.
Tim Allen returns as if "Home Improvement" was never cancelled. But this time , instead of tools, he's selling manly outdoor goods with a long suffering wife – Nancy Travis, who has played that role for others many times before. And he's the father of girls, who complains all day that things aren't right for men these days. This sitcom may be one example why.
Another star of a long-faded favorite sitcom returns to star in a new comedy tonight. Malcolm-Jamal Warner stars in "Reed Between the Lines" (BET, 10 p.m.), which is about a well adjusted middle class African-American family in the tradition of "Cosby" (in which he once starred). With Tracee Ellis Ross ("Girlfriends"), Anna Maria Horsford and Melissa De Sousa.
A new reality series starting tonight, "Chelsea Settles" (MTV, 11 p.m.), follows the progress of an overweight recent college grad trying to enter the fashion field though she is constantly told she is too big to be in that field.
In addition to being  the 10th anniversary of 9/11, it's also the 10th anniversary of the anthrax scare that killed five and injured dozens more. One man was finally blamed for the attack seven years later and after the suspect's death. But a new "Frontline" (PBS, 9 p.m., check local listings), reported with ProPublica and McClatchy Newspapers, looks at whether the investigation took a wrong turn.
Also on public television tonight, "Women, War and Peace" (PBS, 10 p.m., check local listings) follows the story of 16 women who had been raped by Serb-led forces in Bosnia, and decided to testify in international court. Matt Damon narrates.
Sports agents are pretty much presented as pariahs in the press – either they are snakes who have raised the price of athletes so high it's wrecked the sports economy and inflated admission tickets , or they've been at the forefront of the steroids controversy. Tonight, filmmaker Morgan Spurlock looks at the short history of the job, and introduces us to a few of them – some big names, but others just starting out, giving "Dotted Line" (ESPN, 8 p.m.) some of its inherent tension.
The latest Republican Presidential Debate (Bloomberg, 8 p.m.) originates from Dartmouth College.
Mike Epps hosts the annual BET Hip Hop Awards (BET, 8 p.m.) from Atlanta, where it was taped Oct. 1, with LL Cool J, DMX, Eminem, Lupe Fiasco, Heavy Day, Chris Brown, Busta Rhymes, Ludacris and many more.
It's National Coming Out Day. And to nudge you out of the closet, the special "Coming Out" (MTV, 7 p.m.) documents a couple of young people coming out to parents and to a guy to his rugby team.
John Corbett returns to "Parenthood" (NBC, 10 p.m.) on an episode where Krista gives birth.
End of the line for Carson Kressley on "Dancing with the Stars" (ABC, 9 p.m.)? Unlike Chaz Bono, he has no famous mom to cheer him on in the studio. Before the elimination, Julianne Hough returns as a performer, doing a number from the forthcoming "Footloose" with co-star Kenny Wormald.
Brandy joins the cast of "90210" (The CW, 8 p.m.) as a rising politician.
Abby discovers something about her family history on "NCIS" (CBS, 8 p.m.).
Wedding plans are made after 28 years of cohabitation on "Gene Simmons Family Jewels" (A&E, 9 p.m.).
As with the guys in "Breaking Bad," the motorcycle club in "Sons of Anarchy" (FX, 10 p.m.) run into a problem with a Mexican drug cartel with which they've been working.
The 100th anniversary of Nicholas Ray's birth is being celebrated all month Tuesday nights on Turner Classic Movies.  Tonight's films include "Rebel Without a Cause" (8 p.m.), "Johnny Guitar" (10 p.m.), "Flying Leathernecks" (midnight), "On Dangerous Ground" (2 a.m.) and "The Lusty Men" (3:30 a.m.).
Daytime Talk
Regis and Kelly: Dylan McDermott, Anna Torv, Katie Couric. The View: Samuel L. Jackson, Angela Bassett, Bernadette Peters. The Talk: Jaclyn Smith, Foreigner. Ellen DeGeneres: Liza Minnelli, Keith Urban. Wendy Williams: Malcolm Jamal Warner, Rev. Al Sharpton.
Late Talk
David Letterman: Matthew Broderick, Hunter Hayes. Jay Leno: Julie Bowen, Dave Salmoni, Imelda May. Jimmy Kimmel: Don Rickles, Peter Bjorn & John. Jimmy Fallon: Samuel L. Jackson, Dylan McDermott, Ra Ra Riot. Craig Ferguson: Steven Wright, Monica Potter. Tavis Smiley: Vicki B. Escarra. Carson Daly: Toy Choi, Tiffany Schlain, the Joy Formidable. Jon Stewart: Hugh Jackman (rerun). Stephen Colbert: Mark Cuban (rerun). Conan O'Brien: Will Arnett, Deepak Chopra, Merle Haggard. Chelsea Handler: Bill Bellamy, Sarah Colonna, Greg Fitzsimmons.