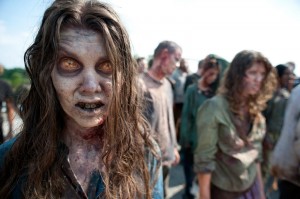 Zombies haven't so completely taken over the popular imagination that there isn't still an appetite for the second season of "The Walking Dead" (AMC, 9 p.m.), the stark and effective adaptation of the grisly Robert Kirkman graphic novel for TV.
Precise direction and a big budget for gruesome makeup make the series standout from every pervious TV horror series. This one is built on characters, too, who don't talk much but have to rely on one another to make it out of this apparent global zombie takeover.
As the second season begins, with a 90 minute episode, the group led by the sheriff (Andrew Lincoln) heads out of Atlanta only to face a bigger nightmare on the highway than you'd ever imagine in traffic. An all day marathon of season one leads up to the new episode.
It's almost unfair how so many shows of consequence all show at the same time on Sunday nights. (And I'm not talking "Desperate Housewives" (ABC, 9 p.m.)).
But should you be able to catch the first rate premium cable dramas of "Homeland" (Showtime, 10 p.m.), "Dexter" (Showtime, 9 p.m.) or "Boardwalk Empire" (HBO, 9 p.m.) on demand or on DVR replay later, it's worth your while to catch the first of the three-week detective yarn "Case Histories" on "Masterpiece Mystery" (PBS, 9 p.m., check local listings).
Jason Isaacs, familiar from "Brotherhood" if not "Harry Potter," is the wary private detective and ex-cop whose assignments go from spying on cheating partners to finding a cat to solving murders – one fresh, another committed 30 years earlier.
Based on the series of novels by Kate Atkinson, the stories flow naturally into one another as the character, a divorced father of one, follows the cases more out of his own curiosity than his assignment.
Beautifully shot in Edinburgh, with some wry dark humor, it's so good, you'll wonder why one of the dozens of U.S. detective shows are not quite as good. For one thing, this one runs without commercial interruption for a feature length two hours. And it includes some great Americana on the soundtrack from the likes of Nanci Griffith and Lucinda Williams.
Two more feature length episodes of "Case Histories" follow on subsequent Sundays.
The Dedication of the Martin Luther King Memorial (BET, Centric, 11 p.m.) runs live this morning from Washington D.C., with speeches from among others, President Obama, and a song from Aretha Franklin.
Carlos Bernard joins the cast of "CSI: Miami" (CBS, 10 p.m.).
A hastily assembled tribute "iGenius: How Steve Jobs Changed the World" (Discovery, 8 p.m.) is hosted by Adam Savage and Jamie Hyneman of "Mythbusters."
On Oprah's channel, the inqugural "Visionaries: Inside the Creative Mind" (OWN, 8 p.m.) looks at Tyler Perry. Then another edition of "Ask Oprah's All Stars" (OWN, 9 p.m.) is followed by a report on "Our America with Lisa Ling" (OWN, 10 p.m.) about homegrown porn.
With the American League Championship Over, they can slip in a two hour episode of "The X Factor" (Fox, 8 p.m.) on tonight. It's the one that was bumped on Thursday by Tuesday's episode which was bumped by a baseball rainout delay and game.
Otherwise, it's game 6 of the National League Championship Series with St. Louis at Milwaukee (TBS, 8 p.m.)
Next stop on "Pan Am" (ABC, 10 p.m.)? Rangoon. But on "The Amazing Race" (CBS, 8 p.m.), they're still in Thailand.
Lisa Edelstein continues her stint on "The Good Wife" (CBS, 9 p.m.) as Harvey Fierstein pops up as a judge.
On the new "Why Am I Still Single?" (VH1, 9 p.m.), relationship advice is dispenced by one Siggy Flicker.
In the competition "Endless Yard Sale 2011" (HGTV, 8 p.m.) three teams of shoppers are given $1,000 and a map to a five-state, 675-mile trail of knickknacks. At the end, they'll be judged on who got the best bargains.
Cooks talk about their favorite dishes on "The Best Thing I Ever Made" (Food, 11:30 a.m.).
A finale comes to "Make Your Mark: Ultimate Dance Off – 'Shake It Up' Edition" (Disney, 8:30 p.m.), which only began on Friday.
Tie down the tables. Part one of the season three reunion of "Real Housewives of New Jersey" (Bravo, 10 p.m.) is staged.
Sunday Night Football (NBC, 8:15 p.m.) offers Minnesota at Chicago.
The monthlong Sunday night showcase of Buster Keaton on Turner Classic Movies continues with more of his great silent shorts and features: "Seven Chances" (8 pm.), "One Week" (9 p.m.), "The Three Ages" (9:30 p.m.), "My Wife's Relations" (10:45 p.m.), "Daydreams" (11:15 p.m.), "Spite Marriage" (12:15 a.m.), "Free and Easy" (1:45 a.m.), "The Garage" (3:30 a.m.),"The Blacksmith" (4 a.m.) and finally a talkie from 1931, "Sidewalks of New York" (4:30 a.m.).
Sunday Talk
ABC: White House strategist David Azelrod, Rep. Mike Rogers. CBS: Reps. Darrell Issa and Elijah Cummings. NBC: Herman Cain, Tim Pawlenty, Louisiana Gov. Bobby Jindal. CNN: Newt Gingrich, Reps. Debbie Wasserman Schultz and John Lewis, Sen. John McCain. Fox News: Sen.Dianne Feinstein, Rep. Eric Cantor.