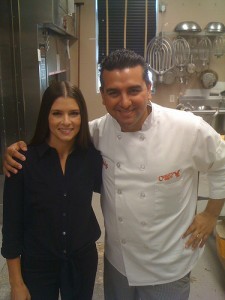 There are stories galore of people whose lives were ruined by winning the lottery, and far more of people who squandered money on the bad odds all their lives to come up short. But they hardly ever come up on "Lottery Changed My Life" (TLC, 9 p.m.). Its second season starts with the story of Joe Denette, a NASCAR fan from Virginia who won $75.6 million in 2009 and bought his own team. It follows a six hour replay of season one that starts at 3.
Keeping up the auto theme, Danica Patrick, right, stops by to see Buddy Valastro on a new "Cake Boss" (TLC, 10 p.m.) that follows.
It's 80s week on "Dancing with the Stars" (ABC, 8 p.m.), where, as proven last week, one bad performance can get you booted.
The remaining groups on "The Sing Off" (NBC, 9 p.m.) concentrate on guilty pleasures – which is just about every song on this show every week.
For all its advance hype, "Terra Nova" (Fox, 8 p.m.) certainly isn't living up to its billing.
Wentworth Miller of "Prison Break" returns to Fox as a patient on "House" (Fox, 9 p.m.) in an episode where Olivia Wilde's Thirteen is prominently featured.
Dan has written his second novel on "Gossip Girl" (The CW, 8 p.m.) and not everybody is happy with it.
Martina McBride performs on "Invitation Only" (CMT, 10 pm.).
Preparations for Thursday's wedding consumes tonight's "Gene Simmons Family Jewels" (A&E, 9 p.m.).
With the season finale of "Most Eligible Dallas" (Bravo, 10 p.m.), we can only hope we never see these off-putting people again.
Encouraging bad behavior among women, the new "Bachelorette Party: Las Vegas" (Oxygen, 10 p.m.) premieres immediately after "Bad Girls Club" (Oxygen, 9 p.m.), the latest episode of which involves a trip to Barbados.
Monday Night Football offers the Dolphins at the Jets (ESPN, 8:30 p.m.).
With no Game 7 needed, it's three hours of "Family Guy" (TBS, 8 p.m.) instead. Thanks a lot, St. Louis Cardinals.
The Connecticut home invasion is the subject of the "Oprah" (OWN, 10 p.m.) replay.
"Clean House New York" (Style, 8 p.m.) is a spin-off seeking messy domiciles in the boroughs. First off, Brooklyn.
The Worst Dressed Person in America loses her distinction after the makeover on a new "How Do I Look?" (Style, 9 p.m.).
The classic horror movie spotlight Monday nights this month continues with movies from the 1950s, including "Horror of Dracula" (8 p.m.) with Peter Cushing, thee with Vincent Price — "House on Haunted Hill" (9:30 p.m.), "The Tingler" (11 p.m.) and "House of Wax" (12:30 a.m.) (alas not in 3-D) as well as "Curse of the Demon" (2:15 a.m.).
Daytime Talk
Regis and Kelly: Simon Baker, Jessica Capshaw. The View: Kevin Smith, Rowan Atkinson. The Talk: Gloria Estefan, Scott Porter, Susie Essman. Ellen DeGeneres: Hilary Duff, J.R. Martinez & Karina Smirnoff, Logan Lerman. Wendy Williams: Jennifer Holliday, Dr. Drew Pinsky. Rosie O'Donnell: Sharon & Kelly Osbourne, Boyz II Men.
Late Talk
David Letterman: Michael J. Fox, Him McDonald, John Doe. Jay Leno: Ellen DeGeneres, Bob Harper, Cobra Starship featuring Sabi (rerun). Jimmy Kimmel: Nathan Fillion, Dave Salmoni, Sia (rerun). Jimmy Fallon: Joseph Gordon-Levitt, Roger Waters, Foo Fighters (rerun). Craig Ferguson: Maria Bello, Joel Schumacher. Tavis Smiley: Michael Lewis, Stockard Channing. Carson Daly: Matt "Mondy" Smith, Cliff Martinez, Kylesa (rerun). Jon Stewart: Ellen Schultz. Stephen Colbert: Harry Belafonte. Conan O'Brien: Kaley Cuoco, Dr. Drew Pinsky, Mayer Hawthorne. Chelsea Handler: Hilary Duff, Gary Valentine, Dan Maurio, Chris Franjola.