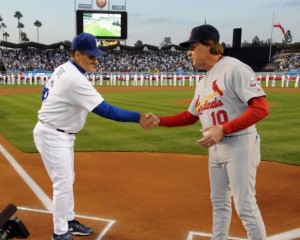 Scotty McCreery, the "American Idol" winner whose debut album hit No. 1, sings the National Anthem to kick off the World Series (Fox, 7:30 p.m.). Game 1 has the Texas Rangers at the St. Louis Cardinals from Busch Stadium.
Joe Buck and Tim McCarver call the game. First Lady Michelle Obama and Dr. Jill Biden will be in the stands. Not because they're big baseball fans, necessarily, but in order to promote the Welcome Back Veterans program aiding veterans and military families.
And if you're not into baseball, there's flag football on "America's Next Top Model" (The CW, 9 p.m.).
To start its 30th season, "Nature" (PBS, 8 p.m., check local listings) looks at the glowing creatures that have been roaming near Chernobyl in packs – "Radioactive Wolves." It's followed by a two hour "Nova" (PBS, 9 p.m., check local listings) about finding life elsewhere in the universe.
"Up All Night" (NBC, 8 p.m.) is a flashback to when the baby was born.
Ozzy, who seemed blindsided when his girlfriend was voted off last week, is at odds with his tribe on "Survivor: South Pacific" (CBS, 9 p.m.).
While on a college trip, Phil shows Haley his alma mater on a new "Modern Family" (ABC, 9 p.m.).
Jason Alexander guest stars on a new episode of "Harry's Law" (NBC, 9 p.m.).
There's a finale for the cop show you should have been watching all along: "Luther" (BBC America, 10 p.m.).
As a bridge between its seasons, there's a special Halloween prequel episode of  "Pretty Little Liars" (ABC Family, 8 and 10 p.m.).
The surprisingly talented contestants on "Work of Art: The Next Great Artist" (Bravo, 9 p.m.) have to try a little parkour first.
"American Horror Story" (FX, 10 p.m.) looks to fly off the wheels any minute now, but it's been pretty intriguing so far (and ridiculous only in hindsight).
A family that hunts wild boars in Texas is the latest to become reality TV stars on a new show called "American Hoggers" (A&E, 10 and 10:30 p.m.).
She's never made a movie, but Casey Anthony is still subject of a new "True Hollywood Story" (E!. 10 p.m.).
What are the mysteries of Mount Rushmore? Some are revealed on "Brad Meltzer's Decoded" (History, 10 p.m.).
The two parts of "George Harrison: Living in the Material World" (8 and 9:45 p.m.) are played back to back, creating an evening-long three hour extravaganza.
Examples of John Alton's cinematography are shown tonight on Turner Classic Movies, with "The Big Combo" (8 p.m.), "Border Incident" (9:30 p.m.), "The Black Book" (11:15 p.m.), "Tea and Sympathy" (1 a.m.), "Designing Woman" (3:15 a.m.) and "Hollow Triumph" (5:15 a.m.).
Today you have the choice of watching "Kissin' Cousins" (TCM, 8 a.m.), the Elvis movie, or "Kitchen Cousins" (HGTV, 9:30 p.m.), a new reality series following a pair of New Jersey contractors who transform kitchens.
The former is part of a day's worth of Elvis movies for no particular reason: "Follow That Dream" (6 a.m.),  "It Happened at the World's Fair" (9:45 a.m.), "Harum Scarum" (11:45 a.m.), "Tickle Me" (1:15 p.m.),"Spinout" (3 p.m.), "Double Trouble" (4:30 p.m.) and "The Trouble with Girls" (6:15 p.m.).
Daytime Talk
Regis and Kelly: Ricky Gervais. The View: Andy Samberg, Sarah Hyland, Matt Prokop. The Talk: Idina Menzel, Cameron Mathison, Susie Essman. Ellen DeGeneres: Taylor Swift, Abigail Breslin, Foster the People. Wendy Williams: Dule Hill, Rocco Dispirito. Rosie O'Donnell: Little Big Town.
Late Talk
David Letterman: Taylor Lautner, Minka Kelly, Wilco (rerun). Jay Leno: Jack Black, Steve Martin, Owen Wilson, Aubrey Plaza, Blondie (rerun). Jimmy Kimmel: Julie Bowen Elisha Cuthbert, Pitbull (rerun). Jimmy Fallon: Jason Sudeikis, Deena Cortese, Jon Rineman (rerun). Craig Ferguson: Carlo Gugino, Jake Johnson, Joe Matarese. Tavis Smiley: Martin Sheen, Emilio Estevez. Carson Daly: Miranda July, Jeff Jensen, the Horrors (rerun). Jon Stewart: Rev. Al Sharpton. Stephen Colbert: Ali Soufan. Conan O'Brien: Tom Selleck, Julianne Hough, All Time Low. Chelsea Handler: Emilio Estevez, Ross Mathews, Ilisa Shlesinger, Ben Gleib.