Women are possibly more woefully represented on TV today than they were 20 years ago. Kids get a terrible message from what they see. The result is a Congress nearly bereft of women.
Jennifer Siebel Newsom's documentary "Miss Representation" (OWN, 9 p.m.) touches on all of that – and much, much more. So much more that her message begins to get a little muddled. The startling statistics and some of the interviews are eye-opening, but one thing that could be cut right away is the filmmaker's own story of growing up, getting married, and having a career and baby. Save it for the home movies.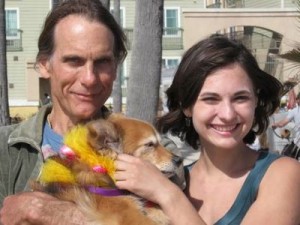 On "Independent Lens" (PBS, 10 p.m., check local listings) Jerry Rothwell's "Donor Unknown" follows the quest of JoEllen Marsh, left, in search of the sperm donor father she knows only as Donor 150.
In the rare moment with out a "Bachelor" or "Bachelorette" on the air, here comes the season of "Sweet Home Alabama" (CMT, 9 p.m.), a similar dating show with a Southern twang. This time it's a guy from Birmingham choosing from 22 women, one of whom is Jon Gosselin's ex girlfriend Halley Glassman. Yeah, I had forgotten her name too.
What's the funny side of approaching hurricanes? "It's Always Sunny in Philadelphia" (FX, 10 p.m.) finds it.
It's been canceled, but "Charlie's Angels" (ABC, 8 p.m.) keeps running out its remaining episodes until the network figures out what else to do (No, "Wipeout" waiting in the wings?).
Kevin McKidd directs (and is featured in) tonight's episode of "Grey's Anatomy" (ABC, 9 p.m.) that features Lee Majors and Marilu Henner as guest stars.
Reruns begin to hit primetime with repeats of "Community" (NBC, 8 p.m.), "Parks and Recreation" (NBC, 8:30 p.m.), "The Office" (NBC, 9 p.m.), "Whitney" (NBC, 9:30 p.m.) and "Prime Suspect" (NBC, 10 p.m.).
"Rules of Engagement" (CBS, 8:30 p.m.) begins its sixth season, as all purpose timeslot filler and mediocre David Spade comedy. It fills the spot where the failed "How to Be a Gentleman" used to be, and follows an episode of "The Big Bang Theory" (CBS, 8 p.m.) in which Sheldon's mom visits.
Tim Gunn visits the hometowns of the finalists on "Project Runway" (Lifetime, 9 p.m.) in part one of the season finale.
The first season of "Truck Stop Missouri" (Travel, 7 and 7:30 p.m.) ends with a couple of episodes just off of I-70.
Senior year starts on "The Vampire Diaries" (The CW, 8 p.m.).
Brie Larson guest stars on "The League" (FX, 10:30 p.m.).
The fakey and thoroughly annoying "Gigolos" (Showtime, 11 p.m.) returns for a second season, for some reason.
"Jersey Shore" (MTV, 10 p.m.) ends its exile in Florence, Italy (let's all just agree it didn't work) and moves back to Seaside Heights in the season four finale.
A new season starts for "Dallas Cowboys Cheerleaders: Making the Team" (CMT, 10 p.m.). How could there be 500 women who want this job?
Zachary Scott, he of the straight nose, spreading mustache and arched eyebrow, is the featured star on Turner Classic Movies tonight: "The Mask of Dimitrios" (8 p.m.), "The Southerner" (9:45 p.m.), "Colt .45" (11:30 p.m.), "Danger Signal" (1 a.m.), "Flamingo Road" (2:30 a.m.) and "Bandido" (4:15 a.m.).
Game 2 of the World Series continues at Busch Stadium with Texas at St. Louis (Fox, 8 p.m.). The Cardinals lead the best of seven series 1-0.
In college football, it's UCLA at Arizona (ESPN, 9 p.m.).
Daytime Talk
Regis and Kelly: Kelsey Grammer, Kevin McKidd, Carrot Top. The View: Christina Ricci, Kelli Garner, Margot Robbie, Karine, Vanasse, Michael Emerson, Carson Kressley. The Talk: Dr. Mehmet Oz, Iman, Carmryn Manheim, Susie Essman. Ellen DeGeneres: Steve Harvey, Kevin McKidd, Carrot Top. Wendy Williams: Tyra Banks, Sean Paul.
Late Talk
David Letterman: George Clooney, Mastodon (rerun). Jay Leno: Hugh Jackman, Maya Rudolph, Tony Bennett (rerun). Jimmy Kimmel: Evandeline Lilly, Kristin Cavallari, Mute Math (rerun). Jimmy Fallon: Will Forte, Amy Sedaris, Stephen Melkmus & the Jicks (rerun). Craig Ferguson: Tom Lennon, Sarah Paulson. Tavis Smiley: Dr. Alfredo Quinones-Hinojosa, Zachary Quinto. Carson Daly: Michelle Monaghan, J. Cole, Frightened Rabbit (rerun). Jon Stewart: Richard Brookhiser. Stephen Colbert: Coldplay. Conan O'Brien: Jesse Tyler Ferguson, Steve Harvey, Amy Schumer. Chelsea Handler: Iman, Mo Mandel, Loni Love, T.J. Miller.