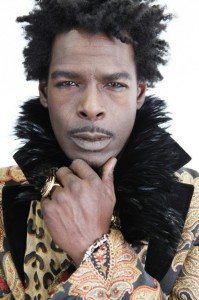 The American version of "The X Factor" finally got to a live program Tuesday and it seemed harder on the judges than it was on the acts. Seventeen were to perform in an almost record breaking 2 ½ hour episode; five of them had to be cut.
The judges could have done it on their own without the ridiculously flashy set and audience. But Simon Cowell, for one, wanted to see how the singers fared with the public.
Their choices for elimination were, in the end, obvious. Each had at least one act that they really shouldn't have put in their final four (or five). And all of them were soon going home:
Homeless guy and James Brown impersonator Dexter Haywood, singing a loopily inappropriate songs selection, "I Kissed a Girl (and I Liked It)."
The Frank Sinatra imitator forced to sing something different ("I'm a Believer") and seen to be instantly ordinary.
The Beiber Boys, or that is to say, the Brewer Boys, who nonetheless have their distinctive haircuts and harmonies. But the group division was a difficult category – it's filled with undeserving acts.
And because Simon had to choose two to go (because he had insisted on five instead of four last week), it was obvious the two singing most wildly out of key would have to go: Simone Battle, who never should have gotten this far, and Tish Tolliver. His three are the two teens: Rachel Crow and Drew Ryniewicz (now known as Drew) and the last minute addition, whose performance and place in the show were also kept to the last minute Tuesday, Melanie Amaro.
With 12 contestants left, home viewers can weigh in for the first time during the live show Monday, with the results of their elimination the following day.
They are likely to be more decisive than Nicole Scherzinger, seemingly cast to appear even more spacey than Paula Abdul. She couldn't remember the names of her singers and hadn't even given a little thought on who she'd eliminate.
Host Steve Jones kept things timely, having to interrupt the talky judges at a couple junctures.