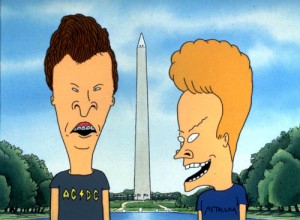 I may be a little too excited about the return of "Beavis and Butt-head" (MTV, 10 p.m.) to television.
The two antisocial dorks were perfect in their era to mock MTV music videos. But it turns out they are also best equipped to make fun of the network's current dim fare from "Jersey Shore," to mention one easy target, to "16 and Pregnant."
It's just that Mike Judge didn't only perfect the odd, horse's skull design of the two characters (whose AC/DC and Metallica T shirts are still in style). It's those odd, distinct voices and their cadences, the sharp eye for satirizing contemporary detail. It's how we miss the underrated "King of the Hill" after all those years. Mostly I'm glad he's being paid by MTV to lacerate all of its other programming.
But the cartoon with which it's paired shows that the network doesn't really know anything about funny. "Good Vibes" (MTV, 10:30 p.m.), about a chubby New Jersey kid transplanted to California, is built solely on crude jokes about body parts. Unfunny and dumb, its one semi-interesting detail is that the voice of the stick-think buddy on the beach, Woody, is that of Adrian Brody, once a star of "The O.C."
It will cap a good night of comedy on TV, with a multi-story episode of "Community" (NBC, 8 p.m.) that is on par with their last, perfect episode, about parallel storylines. Then April and Andy throw a Halloween party the same night Leslie has a campaign event engineered by Tom's weird production company on "Parks and Recreation" (NBC, 8:30 p.m.).
There is an impending sense of gloom at the Halloween party at "The Office" (NBC, 9 p.m.), though the new CEO knows exactly how to play on all their fears and Dwight finds a new equal. And there's dress up on "The Big Bang Theory" (CBS, 8 p.m.) as well.
There's a Halloween party too on "The Secret Circle" (The CW, 9 p.m.) where witches are part of the story every week. Just like "The Vampire Diaries" (The CW, 10 p.m.).
If there's one perennial special on the networks this time of year, it's "It's the Great Pumpkin, Charlie Brown" (ABC, 8 p.m.), which is paired with footage from something also topical for this part of the season (though not this year), "You're Not Elected, Charlie Brown."
A winner is named on "Project Runway" (Lifetime, 9 p.m.) after the Fashion Week shows of the finalists Viktor Luna of New York, Kimberly Goldson of White Plains, Md., Joshua McKinley of New York and Anya Ayong-Chee of Trinidad and Tobago. It's immediately followed by a new competition, "Project Accessory" (Lifetime, 10:30 p.m.), featuring designers of belts, bags, jewelry and such. Another former model, Molly Sims, hosts that one and Kenneth Cole is among the judges.
A hedge fund manager with a $14 million Central Park apartment is astonished to find that she, too, can get breast cancer. So she commissions a film about her journey through treatment, mastectomy and chemotherapy. "The Education of Dee Dee Ricks" (HBO, 8:30 p.m.) improves when she finds that many poor and middle class women, uninsured and underinsured, do not have access to the same treatment and she becomes devoted to raising funds for that. (Her other option would be to support health care reform). Ricks can't quite escape her own narcissism, however, and delights in exposing herself before and after. Though she says the film is for her young sons, they look embarrassed through the whole thing.
On "Independent Lens" (PBS, 10 p.m., check local listings), Eric Neudel traces the history of the disability rights movement in the film "Lives Worth Living."
Postponed Wednesday because of rain, Game 6 of the World Series  is played with Texas at St. Louis (Fox, 7:30 p.m.), weather willing. Rangers lead the series 3-2.
A bunch of 70s musicals are on Turner Classic Movies tonight: "Fiddler on the Roof" (8 p.m.), "The Boy Friend" (11:15 p.m.), "Hair" (1:45 a.m.) and "Man of La Mancha" (4 a.m.).
Daytime Talk
Regis and Kelly: Eva Longoria, Nicole "Snooki" Polizzi. The View: Kadee Strickland, Chaz Bono. The Talk: Tyra Banks, Lucinda Scala Quinn. Ellen DeGeneres: Justin Timberlake, Coldplay. Wendy Williams: Dave Mizejewski. Rosie O'Donnell: Debi Mazar.
Late Talk
David Letterman: Johnny Depp, Foster the People. Jay Leno: Chelsea Handler, Drew Manning, the Original 7ven. Jimmy Kimmel: Justin Timberlake, Rebecca Romijn, the Fray. Jimmy Fallon: Eva Longoria, Kal Penn, GWAR. Craig Ferguson: Kunal Nayyar. Tavis Smiley: Jerry West. Carson Daly: Cee-Lo Green, Reggie Watts, Delta Spirit. Jon Stewart: Judge Andrew Napolitano. Stephen Colbert: Toby Keith. Conan O'Brien: Hugh Laurie, Kari Byron, T.J. Miller. Chelsea Handler: Martina McBride, Bobby Lee, Sarah Colonna, Brad Wollack.