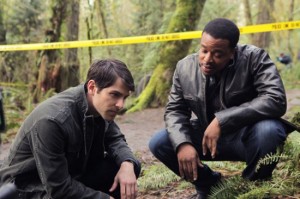 It would seem suddenly that storybook characters are all the rage, as a second new network drama based on them begins. The first of them, "Once Upon a Time," actually did pretty well for ABC on Sunday. But the new one, "Grimm" (NBC, 9 p.m.), is destined to do poorly on an underperforming night of the week that is already overloaded with fantasy TV (because more geeks are home on Friday nights?).
In this version, the world is overrun with ancient goblins and bad people, who are only seen by descendents of ancient hunters of them, called the Grimms (after the brothers who captured the fairy stories and put them in print).
Because the lead Grimm in this show, played by David Giuntoli is also a policeman, each week has an investigation. This week: Little Red Riding Hood. At least he gets to ally with a former Big Bad Wolf, trying to reform. What's next week: cracking the Goldilocks case?
It comes alongside the premiere of the final season of "Chuck" (NBC, 8 p.m.), a failed mix of unconvincing spy caper, romance and humor that's already been on way too long.
It was "Once Upon a Time" by the way that bumped "Extreme Makeover: Home Edition" (ABC, 8 p.m.) to Fridays.
There's no way Game 7 will be the equal of the remarkable Game 6 of the World Series Thursday. But the winner of final game of the season: Texas at St. Louis (Fox, 7:30 p.m.) wins it all.
The unexpected night of baseball (shifted a day because of a Wednesday rainout) means no "Fringe" or "Restaurant Nightmares" tonight.
A Halloween prank plays a role on "CSI: NY" (CBS, 9 p.m.). And what is "A Gifted Man" (CBS, 8 p.m.) but a ghost story? Elsewhere, there's "Ghost Adventures" (Travel, 9 p.m.).
Elsewhere, there's a double feature of "The Addams Family" (ABC Family, 7 p.m.) and "Addams Family Values" (ABC Family, 9 p.m.) and "The Amityville Horror" (Oxygen, 8 p.m.).
Evil twins is the theme on Turner Classic Movies with "Dead Ringer" (8 p.m.), "The Black Room" (10 p.m.), "The Other" (11:15 p.m.) and "Dead Man Walk" (1 a.m.) followed by "Motel Hell" (2:15 a.m.) and "10 Rillington Place" (4 a.m.).
Sam and Dean are cloned on a new "Supernatural" (The CW, 9 p.m.).
Compare and contrast the zombies in the sequal "Survival of the Dead" (AMC, 8 p.m.) with those on a same week replay of "The Walking Dead" (AMC, 10 p.m.) – though there were fewer of them in this particular episode than any before.
There are double new episodes of "Meet the Browns" (TBS, 8 and 8:30 p.m.) and "House of Payne" (TBS, 9 and 9:30 p.m.).
In college football, it's BYU vs. TCU (ESPN, 8 p.m.).
If you missed it, catch the great Friday night basketball tale of the St. Anthony Celtics of Elizabeth, N.J. in "Prayer for a Perfect Season" (HBO, 8 p.m.).
The new Kelsey Grammer drama "Boss" (Starz, 10 p.m.) plays opposite another night long marathon of "Fraiser" (WE Tv, 8 p.m.).
Grover Norquist, Michelle Goldberg, Michael Ware, Cornel West and Ron Christie are guests on a new "Real Time with Bill Maher" (HBO, 10 p.m.).
Another Friday night tradition, "The Soup" (E!, 10 p.m.) moves to Wednesday nights starting Nov. 20.
Daytime Talk
Regis and Kelly: Judge Judy Sheindlin. The View: Hugh jackman, Hal Rubenstein, Judy Gold. The Talk: Rose McGowan, Tom Bergeron. Ellen DeGeneres: Michelle Williams, Ariel Winter, Kevin Nealon. Wendy Williams: Toby Keith.
Late Talk
David Letterman: Tom Brokaw, Myq Kaplan, the Head & the Heart. Jay Leno: Adam Sandler, Rob Kardashian, Awolnation. Jimmy Kimmel: Rob Lowe, Idris Elba, Chris Cornell (rerun). Jimmy Fallon: Justin Timberlake, Michael Pena, Kelly Clarkson, Nile Rodgers. Craig Ferguson: Olivia Munn, Judy Gold, Duran Duran. Tavis Smiley: Jackie Collins. Carson Daly: Lisa Ling, Anamana Guchi, Goldheart Assembly. Chelsea Handler: Iman, Mo Mandel, Loni Love, T.J. Miller (rerun).