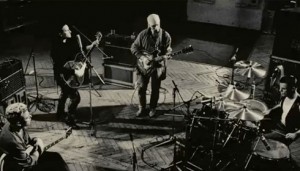 It's the 20th anniversary of "Achtung Baby," U2's big album that produced such songs as "One" and "Mysterious Ways." A new documentary about its making, "From the Sky Down" (Showtime, 8 p.m.) tells the tale.
Rebecca Romijn stars as an adoptive mother whose new adoptee is full of problems on the new TV movie "Possessing Piper Rose" (Lifetime, 8 p.m.). Simply speaking, the child seems to be listening to the evil spirit of her dead mother. She needs an exorcism but the process is far more difficult as the film reaches its messy and contrived end.
The scariest thing is supposed to be the static, some of which comes through the phone (why don't these people get caller ID?).
In other original movies on tonight, Catherine Bell returns in her role as "The Good Witch's Family" (Hallmark, 9 p.m.).
Ving Rhames and Teryn Manning star in another new movie suitable for Halloween weekend, "Zombie Apocalypse" (Syfy, 9 p.m.).
But there is also "Resident Evil: Apocalypse" (Syfy, 7 p.m.), "The Shining" (IFC, 8 p.m.), "Gremlins" (CMT, 8 p.m.), "Halloween 5: The Revenge of Michael Myers" (AMC, 8 p.m.), "Hocus Pocus" (ABC Family, 8 and 10 p.m.), "The Texas Chainsaw Massacre: The Next Generation" (TV Guide Network, 9 p.m.) and (TMC, 9 p.m.),
The best of them may be "Cat People" (TCM, 8 p.m.), "The Body Snatcher" (TCM, 11 p.m.), "Isle of the Dead" (TCM, 12:30 a.m.), "Bedlam" (2 a.m.) and "The Seventh Victim" (TCM, 3:30 a.m.) — all made by the subject of the documentary "Val Lewton: The Man in the Shadows" (TCM, 9:30 p.m.)
In one of the quarterly specials that will replace "America's Most Wanted," John Walsh travels a bit to find bad guys across the country in the two hour "America's Most Wanted: 50 Fugitives 50 States" (Fox, 8 p.m.).
Anne Hathaway and Jake Gyllenhaal star in the cable premiere of "Love & Other Drugs" (HBO, 8 p.m.).  Other cable premieres include Seth Rogen as "The Green Hornet" (Starz, 9 p.m.) and Jaime Pressly in "DOA: Dead or Alive" (Cinemax, 10 p.m.).
The Steve Miller Band plays "Austin City Limits" (PBS, 9 p.m.).
The Ben Stiller-hosted "Saturday Night Live" (NBC, 11:30 p.m.) from earlier this month, with Foster the People, is rerun.