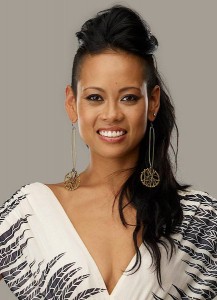 Anya Ayoung-Chee, who was already Miss Trinidad and Tobago Universe in 2008 added another crown of achievement Thursday, winning the ninth season of "Project Runway" in its finale.
Ayoung-Chee, 29, who only learned to sew months before the competition began was praised by judges for a revamped final project full of flowy gowns with vibrant patterns.
"What an absolute dream come true,' she said upon winning. "It's a turning point of my life and I will never ever ever forget it."
Earlier in the episode, she had declared that her final line was "100 percent not my best work."
Joshua McKinley of Sunnyside, N.Y., came in second, saying the winner had beautiful clothes, but that they weren't particularly well sewn.
Viktor Luna came in third and Kimberly Goldson fourth after the four-person runway competition at Fashion Week that culminated the season.
Ayoung-Chee had won three competitions this season, the most of any contestant. Still, she was a late addition to the finale, which is usually limited to three.
Earlier in the final competition, she confessed she was having an identity crisis, but came through it. Tim Gunn chided her line for "being all over the place."
As winner, she'll get $150,000 and various fashion opportunities. Her model, Sveta Glebova, also won $25,000.