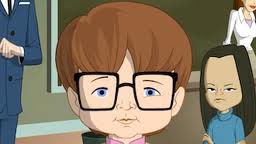 The latest addition to Fox's Sunday night animation lineup doesn't look like the others. "Allen Gregory" (Fox, 8:30 p.m.) is the stylishly drawn saga of a super precocious turned pretentious, spoiled 7-year-old who finds himself in a strange new world when he is forced to go to elementary school with the 99 percent.
It's amusing largely through the voice of Jonah Hill as the central character. He's annoying and eccentric and amusing in a way that character studies like "Napoleon Dynamite" is amusing (and they're bringing back that film character to another animated show next year).
I don't know how many episodes I'll watch, but it's better at least than any Seth MacFarlane title. But not the king of Sunday nights, "The Simpsons" (Fox, 9 p.m.), which manages to present its 22nd annual "Treehouse of Horror" actually before Halloween. They are the most packed episodes of the season, and this one parodies "Dexter," "Avatar," "127 Hours" and even "The Diving Bell and the Butterfly"
A new series looking at the history of television, "American Primetime" (PBS, 8 p.m. check local listings) looks at how women have been depicted over the years.
It accompanies the final installment of the first rate "Case Histories" series on "Masterpiece Mystery!" (PBS, 9 p.m., check local listings) in which Jackson is involved in a train wreck.
"The Next Iron Chef: Super Chefs" (Food Network, 9 p.m.) features selebrity chefs whose names you are supposed to know, including Anne Burrell, Chuck Hughes, Michael Chiarello, Elizabeth Falkner, Beau MacMillan, Geoffrey Zakarian, Spike Mendelsohn and Robert Irvine. Alton Brown hosts the new season.
They're still looking for Sophia on a new "The Walking Dead" (AMC, 9 p.m.), which was renewed for a new season this week as was "Homeland" (Showtime, 10 p.m.), in which Brody reunites with his onetime jailer on tonight's episode.
Parker Posey guest stars as Eli's ex on "The Good Wife" (CBS, 9 p.m.).
Kristin Bauer van Straten of "True Blood" guest stars as Maleficent on the second episode of "Once Upon a Time" (ABC, 8 p.m.), which did well in its debut last week.
"Dexter" (Showtime, 9 p.m.) looks into the Doomsday Killer menacing Miami.
Diane Farr plays a vampire author on "CSI: Miami" (CBS, 10 p.m.).
Ruth Madoff talks about how she and Bernie attempted suicide after their Ponzi scheme became public on "60 Minutes" (CBS, 7 p.m.).
"The Amazing Race" (CBS, 8 p.m.) moves to Africa.
Wisteria Lane is decorated for Halloween for the last time on a new "Desperate Housewives" (ABC, 9 p.m.).
It's Dallas at Philadelphia in Sunday Night Football (NBC, 8:15 p.m.).
The month-long Sunday night survey of Buster Keaton films on Turner Classic Movies ends with his later work, "In the Good Old Summertime" (8 p.m.), "Screen Directors Playhouse: The Silent Partner" (10 p.m.), "A Funny Think Happened on the Way to the Forum" (10:30 p.m.), "The Adventures of Huckleberry Finn" (12:15 a.m.), "Beach Blanket Bingo" (2:15 a.m.) and "Around the World in 80 Days" (4 a.m.).
Sunday Talk
ABC: Michele Bachmann, Bill Gates, Dick Armey, Austan Goolsbee. CBS: Herman Cain. NBC: White House senior advisor David Plouffe. CNN: Ron Paul, David Axelrod. Fox News: Rick Perry.