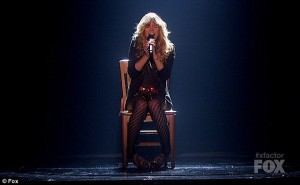 Bad night for the single-named teens on "The X Factor."
Both Astro and Drew got the boot to close out Michael Jackson week and to tie in with the theme, you'd expect Conrad Murray to stroll on stage with the exterminating needle.
Instead, cocky Astro seemed cool with it, as if his car were running outside anyway. He named his fanclubs that he thought would sustain him for the rest of his career, and the one thing he'd miss about being on the show – a girl he met in California. Truth is, the rappin brat should have never made it to the Top 12 in the first place and judges blew it when they didn't yank him a couple of weeks ago when he got all pouty and mouthy after just being in the bottom two.
But poor Drew, who dropped her last name (Ryniewicz) only after making the top 12, possibly in deference to bloggers who'd spell it wrong every week anyway, was weeping in one of those uncontrollable shoulders-heaving manners that's uncomfortable for everyone around. Who wants to put a 14 year old girl through all this pressure and pain? She had already done poorly on her sing-to-stay-alive song, but no worse than way off key Marcus Canty, who is just a run of the mill soul singer but at least was the only one to wear an authentic vintage Michael Jackson jacket for his performance.
Canty proved he can after all and held on after the whispy, folky voice of Drew didn't sustain her.
Her mentor, Simon Cowell, took all the blame for her doing badly this week – he made her sing a way slowed down version of "Billie Jean" while sitting on a chair, and not only are slowed down pop songs a cliché by now, this one didn't technically make sense (women denying maternity doesn't quite track the same way as a man denying paternity). The dim bulbs on the judges panel couldn't see past the chair.
All of a sudden the "X Factor" is down to a handful, with every judge now losing one of the acts they've mentored, after Cowell lost Drew and L.A. Reid lost Astro.
Still left in the running is Nicole's last remaining over 30 singer, "Burrito" Josh Krajcik (hey, drop the last name, buddy); Reid's Chris Rene and Canty, neither of them particularly strong candidates, and Cowell's youngest remaining act in the show, Rachel Crow, and the one voice that is practically guaranteed to win, Melanie Amaro.
Each has to sing two songs next week.