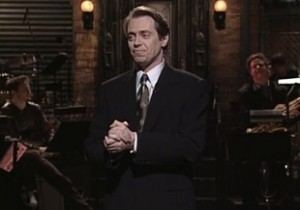 In the eight years since Steve Buscemi last hosted "Saturday Night Live," he's seen his star rise on his casting in HBO's "Boardwalk Empire" as the ruthless and very well dressed Nucky Thompson.
He spoke about the advancement during his opening monologue Saturday, saying "For a long time I played supporting characters. Like the creepy bellhop, the creepy homeless guy and the creepy creepy guy. Even though I loved those roles, I'm excited I made the leap from character actor to lead actor."
He followed through in his "SNL" stint playing a half dozen different characters, who stood out because he did such a good job with them. Let others read cue cards stiffly or not even bother attempting any realism in their performances, the skills Buscemi brought forth on the show set him apart not only from other hosts, but from a lot of the current cast.
Despite the assistance of the news (Herman Cain was the subject of several "Weekend Update" jokes), there wasn't much stirring in the "SNL" writers room, as they reverted more than usual to returning recurring characters, from Kristen Wiig's over-excited Sue to Paul Britten's "Sex" Ed to Vanessa Bayer's Miley Cyrus. But there were some wackier things in there too, including a tree trimming bit that Wiig stole, as they played characters both named Sheila.
If Buscemi excelled playing creeps,he did so in most of his sketches, from a Cyrus supplier to a an accused football coach to an mulletted murderer to an "erotic chef."
One new character (to me) that was pretty funny was Bobby Moynihan's drunken uncle, who pooh-poohs all things modern. And it's always good to have an excuse for Maya Rudolph to return to the show, here doing her Whitney Houston on the Miley Cyrus show segment.
But the best part of the episode may have been the two strong performances by the musical guests, the Black Keys, whose new album is due out Tuesday.