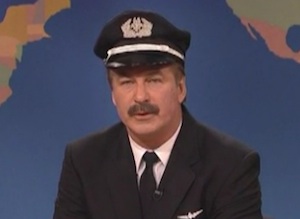 When it came time to tell his side of the most overblown story of the week — being kicked off a flight for playing Words with Friends before takeoff, Alec Baldwin first took to Twitter and then deleted his account.
His new forum would be a bit more familiar: "Saturday Night Live." Baldwin is already the record-holder for hosting most often on the long-running show, and the item was news, so it was natural he pop up on "Weekend Update."
He appeared, however, as a fictional pilot of American Airlines, whose whole bit was apologizing to the "great man" Alec Baldwin, a guy who is that rare breed, an entertainer, who after all was only doing an intellectual word game on his phone. Seth Meyer played along before he advised Baldwin that maybe this wasn't the best way to deal with the incident (again, it was part of the script). Baldwin forged ahead.
It was a highlight on a show that seemed otherwise sort of bland despite the stated host, Katy Perry, who seemed to pale a little bit in the comedy bits and left the musical parts to her onetime opening act, Robyn (whose own Euro-disco act seemed like it was Perry doing a put-on).
There were a whole lot of other cameos in the show besides Baldwin, which is the result of either a weak host or the homecoming effect of the holiday season. Darrell Hammond appeared in the opening skit as Trump doing his debate hosting, and though it was timely, it wasn't well developed and not quite funny.
A digital short featured an array of guests that included Matt Damon, Val Kilmer and a mangy Muppet, and it was better done than most of the other bits, making fun of Japanese or Finnish people (they're different than us, that makes them funny!). A royal skit made it seem like Abby Elliott did a fine Kate Middleton; Perry wasn't needed to be Pippa.
The Al Sharpton bit hit its mark and the final sketch about star-crossed lovers at a lounge was impressively well-directed. Kristen Wiig had a pretty good night, adding her zesty spin on characters that enlivened the most tepid sketches, and the Stefon bit proved it could upstage the segement before it – starring Baldwin.
A weak host isn't the only reason for lots of cameos. I'll be there will be even more next week when Jimmy Fallon returns to host for the first time.