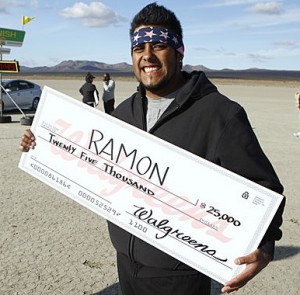 A winner is named on "The Biggest Loser" (NBC, 9 p.m.) from between finalists John Rhode, 40, of Mesa Ariz., Antone Davis, 44, of Knoxville, Tenn., and Ramon Medeiros, 27 of Florence, Calif., right, who returned to the competition last week after winning a marathon.
The winner gets $250,000 but everyone will say it wasn't about money, but losing weight. Accordingl,y the eliminated candidates return for a $100,000 prize to see which of them lost the most weight on their own.
There sure have been a lot of country music specials on prime time lately, most of them in the form of awards show. Today's is along those lines, with the 2011 CMT Artists of the Year (CMT, 9 p.m.) saluting Jason Aldean, Taylor Swift, Kenny Chesney, Lady Antebellum and Brad Paisley. But it is a non-country bloke, Rob Lowe, who hosts.
A Christmas episode of "Glee" (Fox, 8 pm.) has the McKinley High School club doing a TV special.
Here's what happens when you end up second on "American Idol:" "Christmas with the Mormon Tabernacle Choir" (PBS, 8 p.m., check local listings). That's what happens to David Archuletta.
Let's bring back one of the most overcovered events of the year for Christmas: "William & Kate: Inside the Royal Marriage" (NBC, 8 p.m.) looks back at their first eight months of married life. Already they've lasted longer than the most recent Kardashian nuptials. Natalie Morales, who portrayed Pippa on Halloween's "Today" broadcast,  reports.
Justin Long winds up his three episode stint on Christmas-themed "New Girl" (Fox, 9 p.m.).
Then on "Raising Hope" (Fox, 9:30 p.m.) has a "It's a Wonderful Life" theme – what would Jimmy's life have been if Hope had never been born?
It's a Christmas Eve murder on "NCIS" (CBS, 8 p.m.).
If nothing else the weekly movie mystery on TNT has put a lot of actors some brief work. Tonight's "Good Morning Killer" (TNT, 9 p.m.) stars Catherine Bell as an FBI agent and also features Cole Hauser, Titus Welliver, William Devane
Seems like a lot of the same classic movies get rerun about this time of year — "White Christmas" (AMC, 8 p.m.) is on for the second of three consecutive nights. But there are some great Christmas comedies that may have fallen by the wayside simply because they don't have Christmas in the title. Three are on tonight: Bob Hope in "The Lemon Drop Kid" (TCM, 8 p.m.), Dick Van Dyke in "Fitzwilly" (TCM, 9:45 p.m.) and Jimmy Durante in "The Great Rupert" (TCM, 11:45 p.m.).
Mike Rowe starts an eighth season of "Dirty Jobs" (Discovery, 9 p.m.).
With "Man Up!" pulled from the schedule, thre's a double play of "Last Man Standing" (ABC, 8 p.m.) — one new, one a rerun.
"Teen Mom 2" (MTV, 10 p.m.), whose second season premiere last week was the highest rated launch in series history, returns for its second episode.
Scientists get busy "Proving God" (History, 9 p.m.).
It's Tennessee at Rutgers (ESPN, 7 p.m.) in women's college basketball.
In NHL action, it's Sharks at Avalanche (Versus, 9 p.m.).
Daytime Talk
Kelly Ripa: Michelle Pfeiffer, Anthony Hamilton, Matt Bean, Kevin Jonas. The View: Jon Huntsman Jr., Marlo Thomas, Dylan Lauren. The Talk: Samuel L. Jackson, Angela Bassett, Andy Cohen, Michael Emerson, David Letterman. Ellen DeGeneres: Diane Keaton. Wendy Williams: Ivanka Trump, Landau Eugene Murphy Jr. Rosie O'Donnell: Donny & Marie Osmond.
Late Talk
David Letterman: Barbara Walters , Bill Hader, Wild Flag. Jay Leno: Dana Carvey, Jason Reitman, Lenny Kravitz. Jimmy Kimmel: Josh Holloway, Moly Sims, Death Cab for Cutie. Jimmy Fallon: Tracy Morgan, Mario Batali, Pablo Francisco (rerun). Craig Ferguson: Ben Kingsley, Morena Baccarin. Tavis Smiley: Harvey Weinstein. Carson Daly: Matt Kemp, Weezer, Cold War Kids (rerun). Jon Stewart: Lawrence Lessig. Stephen Colbert: Mark Whitaker. Conan O'Brien: Ted Danson, Nick Frost, Nick Vatterott. Chelsea Handler: Common, Dan Maurio, Loni Love, Josh Wolf.