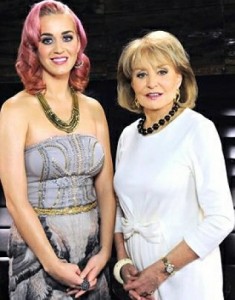 The annual special "Barbara Walters Presents: The 10 Most Fascinating People of 2011" (ABC, 9:30 p.m.) has devolved into The 10 People With Whom You Wouldn't Want to Spend Another Second.
Among them: Donald Trump, the Kardashians, Herman Cain, Katy Perry, pictured left, and Simon Cowell.
Also saluted this year: Derek Jeter, Pippa Middleton and Jesse Tyler Ferbuson and Eric Stonestreet of "Modern Family" (ABC, 9 p.m.), the convenient lead-in.
We're right in the middle of the Battle of the Nutcrackers week on the Ovation network, where tonight's "Nutcracker Ballet" (Ovation, 8 and 10:45 p.m.) is a 1999 production by the Berlin State Ballet, to be judged against its other productions this week. But it's only one of the two Nutcrackers on tonight. The other is from the New York City Ballet on "Live from Lincoln Center" (PBS, 8 p.m., check local listings).
It's the last Wednesday night edition of "Survivor: South Pacific" (CBS, 8 p.m.) before the Sunday finale. There are still a lot of people to eliminate from the solid five alliance of the old Upolo tribe – and Ozzy and Edna have to battle to come back from Redemption Island.
"The X-Factor" (Fox, 8 p.m.) is down to its semi-finals with just four singers left. Oddly, it is judge L.A. Reid who has two candidates in the final four (though young female voters tend to vote for cute young boys). They sing two new songs — one of which is chosen by viewers, in the repeat of a plan that didn't quite work last week.
It's the second to last episode, too, for "Work of Art: The Next Great Artist" (Bravo, 9 p.m.), a show whose contestants arguably have more talent.
The countdown to hockey's winter showdown begins with the reality series "24/7 Flyers/Rangers: Road to the NHL Winter Classic" (HBO, 10 p.m.).
Tequila is the ingredient tonight on "Top Chef: Texas" (Bravo, 10 pm.).
Birth comes to "American Horror Story" (FX, 10 p.m.) and it's not the joyous occasion it ought to be.
"Brad Meltzer's Decoded" (History, 11 p.m.) looks into the prognosticating aspects of the work of Leonardo da Vinci.
The 26th season of "The Real World" (MTV, 10 p.m.) ends tonight, and I can happily say I never saw a second of it.
Jason Priestly guest stars on the fall finale of "Psych" (USA, 10 p.m.).
Tonight's offering in Big Cat Week, it's "Return of the Clouded Leopards" (Nat Geo Wild, 10 p.m.) in which researchers rescue and raise extremely rare clouded leopard cubs and return them to jungles in northern India.
Would you rather have "A Nanny for Christmas" (Lifetime, 8 p.m.), "A Princess for Christmas" (Hallmark, 8 p.m.)  or "A Boyfriend for Christmas" (Lifetime, 10 p.m.)?
This one sings: A musical version of "A Christmas Carol" (Lifetime Movie Network, 8 p.m.) with Kelsey Grammer, more recently seen in "Boss" (Starz, 8 and 10 p.m.).
In a Paul Newman double feature it's Paul Newman in the 2000 film "Where the Money Is" (Flix, 8 p.m.) and, from 30 years earlier, "WUSA" (Flix, 9:30 p.m.).
Stanley Kubrick's rare first feature "Fear and Desire" (TCM, 8 p.m.), kicks off a night of films from the George Eastman House film archive. It's followed by a 1920 silent "Huckleberry Finn" (TCM, 9:15 p.m.), "Pandora and the Flying Dutchman" (TCM, 11 p.m.), "Roaring Rails" (TCM, 1:15 a.m.), "The World Moves On" (TCM, 2:45 a.m.) and "Goldstein" (TCM, 4:45 a.m.).
Last year's "Four Lions" (TMC, 8 p.m.) shows us if we can't laugh at terrorists, who can we laugh at?
In college basketball, it's Florida International vs. Maryland (ESPN, 7:30 p.m.). In hockey, it's Chicago at Minnesota (Versus, 7:30 p.m.).
Daytime Talk
Kelly Ripa: Jude Law, Rachel Crow, Lawrence Zarian, Bryant Gumbel. The View: Rachael Ray, Guy Fieri. The Talk: Donnie Wahlberg, Gayle King. Ellen DeGeneres: Charlize Theron, Paris Jackson, Kevin Nealon, Christina Perri. Wendy Williams: Jane Kaczmarek. Rosie O'Donnell: Justin Bieber.
Late Talk
David Letterman: Robert Downey Jr., Rooney Mara. Jay Leno: Louis C.K., Levi Lavelle, Common. Jimmy Kimmel: Kathy Griffin, Jamie Bell, Young Jeezy. Jimmy Fallon: Adam Sandler, Chris Martin, Beyonce (rerun). Craig Ferguson:  Kennety Branagh, Patton Oswalt. Tavis Smiley: Gary Oldman. Carson Daly: Dave Attell, Resurrect Dead, the Decemberists (rerun). Jon Stewart: Melody Barnes. Stephen Colbert: Gen. Raymond Odierno. Conan O'Brien: Christoph Waltz, Mike Zohn & Evan Michelson, Deer Tick. Chelsea Handler: Charlize Theron, Ben Gleib, Natasha Leggero, Ross Mathews.