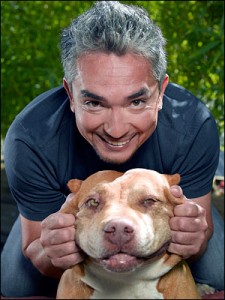 Cesar Millan is sitting in an old refurbished Washington D.C. hotel blocks from the White House and thinking of doing his "Dog Whisperer" routine on Bo.
"I want to do a show on Presidential dogs," he said over breakfast the other day at The Jefferson. "Just like I want to do one on royal dogs. To give people an insight how the life of the dogs are different."
That's not yet been planed, though when the eighth season of his popular "Dog Whisperer with Cesar Millan" premieres next month.
The season will, however, feature shows on military dogs, one on "home wrecking hounds" and his landmark 150th episode.
With the milestone comes a bunch of another numbers – reviewing nearly 4,000 audition tapes, travling to 211 cities in four countries to work with more than 450 dogs.
The new season also represents a jump for the show from the National Geographic Channel to its more recent offshoot network, Nat Geo Wild.
"Dog Whisperer" on Wild may seem a contradiction in a show where the goal is turn canines a bit more mild.
But Millan says, "Dogs are wild. They are part of nature. And the only time nature is unstable is when humans get in the way."
Hence all his training is focused on the humans, and it's not always easy to get the message through.
"Most people begin with their dog with affection," he says. "But what you begin with is exercise, then discipline and affection third."
There's no shortage of dogs to meet because there is no shortage of people who have mistrained or related incorrectly to their pooch – mostly, they have failed to showing who has power in the relationship.
"It's very important for the human to lead," Millan says.
Millan has been a hero for dog owners who are at the end of their ropes, but his techniques borne from growing up among animals in Mexico, are not universally accepted – hence, there's still a disclaimer at the beginning of his shows.
But he's undoubtedly a celebrity for his work as a table of fans shyly approaches as breakfast is breaking up. He takes it in stride. And it's better than some situations he finds himself in.
"People pull their phones out and say, 'Can you talk to my dog?'" he says.
"Eighty percent of my clients are women," he says. Not because men are in better control of the situation "Men take longer to admit they have a problem."
As for the White House dogs, he doesn't have much hope of getting it done. "Normally, the powerful and wealthy people keep their secrets."
Still, he says, "I want to go to Senators and meet their dogs," he says. "I want to know: how do they behave with their dogs? What is heir relationship? You get to know a lot about a person if a dog is balanced."
Regarding the Obama family dog, Bo, he says, "the last time I saw him he was pulling the President. That's not good."
"I thought seeing he was black he was going to bring a Rottweiler or something," Millan says, joking I think.
"For a long time the White House didn't have powerful breeds. They had soft breeds. Clinton had had a chocolate lab that passed away, he would run away and get hit by car. Mr. Bush had a scotch terrier and his father had a springer spaniel," Millan says. "I want to see a pack of dogs living in the White House."
The closest he's come to training a dog of royalty is when he visited Oprah Winfrey's dog Rosie.
"Her dog was aggressive, biting people."
It wasn't the kind of dog she was, Millan says. "Aggression is really not just for certain breeds. It's a state of mind. It's like jealousy. Anybody can be, fear is universal. But aggression is not the problem, it's the outcome of the problem. Aggression is the symptom. The problem is the dog doesn't get enough exercise. See, dogs in American don't have a job, so they're bored. When they go in the backyard, they're barking their head off, because that's the only way they can drain energy."
"If a dog could smoke, there would be a lot less problems," he says at last. "Cause they're bored." If they smoked, he says with a laugh, "they'd be standing around, trading jokes."
And he briefly contemplated a spin-off for his long-running show, "The Dog Smoker."
"The Dog Whisperer" returns for its new season Jan. 7 on Nat Geo Wild.