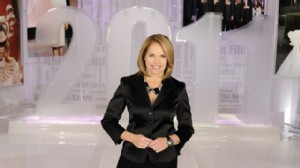 Yesterday, Barbara Walters reviewed 2011 in terms of the people who most fascinated her; tonight, ABC News' latest diva gets to present her own annual review, "The Year with Katie Couric" (ABC, 9 p.m.).
Other specials have their own views, from "Storm Chasers Behind the Storms 2011" (iscovery, 8 p.m.) to "2011: The Year the Earth Went Wild" (Discovery, 10 p.m.).
The season of "It's Always Sunny in Philadelphia" (FX, 10 p.m.) ends at the high school reunion where everyone is trying to remake their image. The accompanying comedy "The League" (FX, 10:30 p.m.) was renewed this week for two more seasons.
Likely the final Republican Presidential Debate (Fox News, 9 p.m.) before the Iowa caucuses is tonight from Sioux City, featuring the usual seven. The last debate, five days ago, was a ratings winner for ABC, maybe because now they're really starting to turn on each other. Brett Baier moderates.
Here's a special about Candy Spelling clearing out the mansion, "Selling Spelling Manor" (HGTV, 9 p.m.).
A group of friends try to play jokes on one another and the public in the new series "Impractical Jokes" (truTV, 10 and 10:30 p.m.).
A season finale comes to "Burn Notice" (USA, 10 p.m.).
Last week's episode was a classic send-up of "Glee"; this week on "Community" (NBC, 8 p.m.), they replay last year's great claymation episode.
Play it again, Linus: "A Charlie Brown Christmas" (ABC, 8 p.m.) runs again, alongside "Prep & Landing: Operation Secret Santa" (ABC, 8:30 p.m.).
Other holiday fare tonight includes the 1947 "Miracle on 34th Street" (AMC, 8 p.m.), "Jingle All the Way" (Encore, 8 p.m.), "The Christmas Pageant" (Hallmark, 8 p.m.), "Home for the Holidays" (Lifetime Movie Channel, 8 p.m.), "Santa Buddies" (Disney, 8:30 p.m.) and "A Christmas Proposal" (Lifetime Movie Channel, 10 p.m.).
The only new scripted network episodes tonight are on "Rules of Engagement" (CBS, 8:30 p.m.), in its fall finale; "Bones" (Fox, 9 p.m.), "Person of Interest" (CBS, 9 p.m.), "Prime Suspect" (NBC, 10 p.m.) and "The Mentalist" (CBS, 10 p.m.).
There's a double helping of new "Beavis and Butt-head" (MTV, 10 and 10:30 p.m.).
The Thursday night showcase of William Powell movies continues with "Life with Father" (TCM, 8 p.m.), "The Girl Who Had Everything" (TCM, 10:15 p.m.), "Mister Roberts" (TCM, 11:30 p.m.), "It's a Big Country" (TCM, 1:45 a.m.), "One Way Passage" (TCM, 3:30 a.m.) and "The Key" (TCM, 4:45 a.m.).
For a family double feature, you can hardly beat "Finding Nemo" (ABC Family, 6:30 p.m.) and "Beauty and the Beast" (ABC Family, 9 p.m.).
A strong documentary double feature, meanwhile, is: Morgan Spurlock's "Super Size Me" (TMC, 8 p.m.) and Errol Morris' "The Thin Blue Line" (TCM, 9:40 p.m.).
It's Jaguars at Falcons (NFL, 8 p.m.) in Thursday Night Football.
Daytime Talk
Kelly Ripa: Robert Downey Jr., Lady Antebellum, David Pogue, Michael Buble. The View: Harry Connick Jr., Tracey Gold, cast of "On a Clear day You can See Forever."  The Talk: Brooke Shields, Patrick Wilson. Ellen DeGeneres: Paris Jackson. Wendy Williams: Tracee Elis Ross, Candy Spelling, Mariel Hemingway.
Late Talk
David Letterman: Tom Hanks, My Morning Jacket. Jay Leno: Al Michaels & Cris Collinsworth, Elle Fanning, Robin Thicke. Jimmy Kimmel: Robert Downey Jr., Lenny Kravitz. Jimmy Fallon: Martin Short, Kermit the Frog, Miss Piggy, Michael Stipe (rerun). Craig Ferguson: Sean Hayes, John Hodgman. Tavis Smiley: Tom Brokaw Carl Colby. Carson Daly: Tim Armstrong, Girl in a Coma, Death Cab for Cutie (rerun). Jon Stewart: Matt Damon. Stephen Colbert: Daniel Craig. Conan O'Brien: Dax Shepard, Kunal Nayyar, Dawes. Chelsea Handler: Kenneth Branagh, Bill Bellamy, John Caparulo, Sarah Colonna.