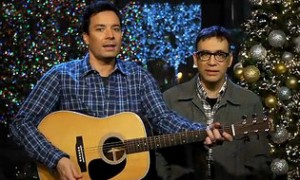 Sully, the Southie troublemaker, trying to get into his old high school dance 15 years too late — the cold open for "Saturday Night Live" was a good metaphor for Jimmy Fallon returning to the show that launched him way back when.
Current kids wanted to know if he was really a badass; meanwhile he was dragging in some of his old friends. Before the opening credits rolled, he already had on Rachel Dratch and Amy Poehler as part of the skit. Later Horatio Sanz, Chris Kattan and Tracy Morgan would join them to reprise the ditty they once unveiled on the show, "I Wish It Was Christmas Day." Kattan and Sanz would join another skit later, about Beethoven introducing his band.
Then Tina Fey (and Poehler) would join on a "Weekend Update" joke-off with Seth Meyer.Never before had a past cast so usurped a current cast on the long running "SNL." But mostly,the show was Fallon, doing just about everything.
In the opening monologue, Fallon usurped David Letterman by doing the anthem "Christmas (Baby Please Come Home)" before the usual annual late night performance (by Darlene Love) scheduled this year for Friday.
In Fallon's version, he sang about being  back. He also obsessed about his being back in a backstage mirror bit with Andy Samberg, and insinuated himself in just about every sketch, crasking a Hoda and Kathy Lee sketch with a Regis impersonation, and doing a third of the impersonations in a Michael Buble duets bit. Even in the skit where Kristin Wiig keeps saying "don't make me sing," Fallon inserted himself as a guy who also said "don't make me dance."
He was so busy, in so many sketches, you might not suspect he also puts out a late night talk show in the same building five nights a week. He was even in three of the commercials — two for Capitol One and one for "Late Night with Jimmy Fallon."
All of this energy made for a better than usual "SNL" that didn't start to flag with weaker sketches until the third half hour. But for the wave at the end, he assembled the cast and guests (including Jude Law, whose cameo was almost lost in the crush of alumni) on the ice of Rockefeller Center, where it looked for all the world like the 90s cast had taken over completely, with the current cast members in the background.
What was more strange was seeing Fallon in a bumblebee outfit — the one originated by John Belushi in the original cast. He's not only inserting himself into current "SNL" history, he's also inserting himself into the past.