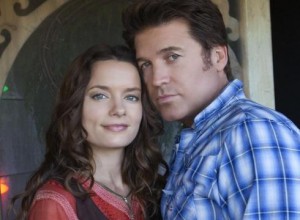 Billy Ray Cyrus stars in one of the dullest holiday movies of the season, "Christmas Comes Home to Canaan" (Hallmark, 8 p.m.). A sequel to the 2009 "Christmas in Canaan," n0thing much happens here except for Billy Ray's character patiently waiting for a physical therapist played by Gina Holden to come around. That she comes about Christmastime is supposed to qualify this as holiday fare.
The annual "WWE Tribute to the Troops" (NBC, 9 p.m.) is staged in Fayetteville, N.C. And in addition to the wrestlers, there are appearances by Mary J. Blige, Nickelback, Maria Menounos, George Wallace and Miss USA, Alyssa Capanella.
The quarterly two hour special of "America's Most Wanted" (Fox, 8 p.m.) returns to the scene of the crime: its original network.
The Lower East Side shop Obscura Antiques & Oddities is one of those places that could have come up with all the creepy props in the "American Horror Story" title sequence. For the third season opening episode of "Oddities" (Science, 9 p.m.) the shop looks to buy some hearts in jars someone has brought in. Another is a puppeteer who is haggling over a hypnosis machine to used in his latest production. They're interesting people but what does this have to do with science? Well, they say in the intro, they've made "a science out of" running the shop.
The holiday themed "Wipeout" (ABC, 8 p.m.) is rerun as is the two hour special "CMA Country Christmas" (ABC, 9 p.m.).
Both "Frosty the Snowman" (CBS, 8 p.m.) and "Frosty Returns" (CBS, 8:30 p.m.) are on again, followed by "The Story of Santa Claus" (CBS, 9 p.m.).
Amanda Seyfried is followed by a wolf in "Red Riding Hood" (HBO, 8 p.m.). Other cable movies making their premiere tonight include AnnaSophia Robb in "Soul Surfer" (Starz, 9 p.m.) and "Beatdown" (Cinemax, 10 p.m.).
You may not have our shopping done, but college football bowl games begin today, with Temple vs. Wyoming in the New Mexico Bowl (ESPN, 2 p.m.) Ohio vs. Utah State in the Potato Bowl (ESPN, 5:30 p.m.) and San Diego State vs. Louisiana-Lafayettte in the New Orleans Bowl (ESPN, 9 p.m.).
College basketball today includes Ohio State at South Carolina (ESPN, noon), Butler vs. Purdue (CBS, 2 p.m.), Memphis at Louisville (CBS, 4 p.m.) and Notre Dame at Indiana (ESPN2,  4:30 p.m.),
Grammy winner Esperanza Spalding performs on a replay of "Austin City Limits" (PBS, 9 p.m., check local listings.
One of the biggest comedy flops in years was Mike Myers' "The Love Guru" (Comedy Central, 9 p.m.). Austin Powers, he wasn't.
A better comedy bet is the classic "Monty Python and the Holy Grail" (IFC, 8:05 p.m.) followed by "Monty Python: The Life of Brian" (IFC, 10:05 p.m.).
Jimmy Fallon returns to host a new "Saturday Night Live" (NBC, 11:30 p.m.). Michael Buble is musical guest.