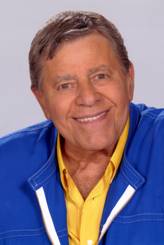 The artistry of the comedy of Jerry Lewis gets the full attention in the authorized movie biography "Method to the Madness of Jerry Lewis" (Encore, 8 p.m.), which wasn't even made in France (where Lewis remains a hero).
Gregg Barson's film works because it's serious about the showing the accomplishments of the comedian who has bridged entertainment from the vaudeville days where he was raised, to perfecting live performance, creating a kind of frenzy only rock 'n' rollers would with his partner Dean Martin, and then breaking off for a movie career in which he enjoyed creative control – writing, directing and starring in a way that Charlie Chaplin did before him.
It's great that some of the examples of his work also show today, including "The Bellboy" (Encore, 1:50 p.m.), "The Errand Boy" (Encore, 3:05 p.m.), "The Geisha Boy" (Encore, 4:40 p.m.) and "The Ladies Man" (Encore, 6:20 p.m.).
Lewis had a musicality to his approach as comedian and filmmaker and was credited with innovations in filmmaking itself, including the instant video playback.
Yet some aspects of Lewis' career are not touched at all. You would think that the Muscular Dystrophy Telethon was just the place where the Dean Martin reunion, brokered by Frank Sinatra, was staged in 1976. Most people know him as the telethon host, though he parted ways with the organization earlier this year.
And what of Lewis' unfinished 1972 film "The Day the Clown Cried," about a circus clown imprisoned in a Nazi camp?
There's no shortage of first-string comedians to sing Lewis' praises, from Jerry Seinfeld and Billy Crystal to Alec Baldwin and Eddie Murphy. But what of the pair of comics who have really continued the mawkish but ever-people pleasing comedy traits, from Adam Sandler to Jim Carrey?