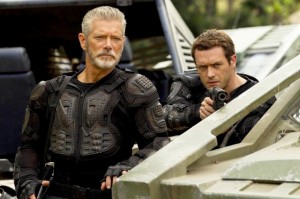 One of the TV season's biggest disappointments has been "Terra Nova" (Fox, 8 p.m.), which, despite its big budget and Spielberg pedigree, has been one of the least-talked-about, least blogged and least watched new shows of the season. It drew just over 7 million viewers last week and was beaten by the repeat of a 45 year old special regarding a Grinch.
Tonight, for the season finale of the future world dinosaur saga, it's up against a "Kung Fu Panda Holiday Special" (ABC, 8 p.m.) and "A Chipmunk Christmas" (ABC, 8:30 p.m.). So it may be a case where chipmunk beats dinosaur.
It's an odd time of the year on TV, where there are two weird hour-long game shows on different networks. In addition to "You Deserve It" (ABC, 9 p.m.), the relatively new game show in which someone "deserving" gets the winnings, there is the new "Who's Still Standing?" (NBC, 8 p.m.), based on a concept from Europe, where those who answer quiz show questions incorrectly are dropped down a trap door. It's hosted by the guy from "Cash Cab," which is kind of weird. Never seen his legs before.
Steep drops are the kind of thing that happens all the time on "Fear Factor" (NBC, 9 p.m.), the resurrected show that is at least just an hour tonight, instead of last week's two. And tonight is snake night, if that's a lure at all.
Music on VH1? It's a Christmas miracle! Mary J. Blige, Kelly Clarkson, Florence and the Machine, Jennifer Hudson, Jessie J and Jill Scott all perform on "VH1 Divas Celebrates Soul" (VH1, 9 p.m.) saluting the capital cities of the sound, from Chicago, Detroit, Memphis and Philadelphia to London. La La Anthony hosts.
Steve Martin and Chip Davis are profiled on a new "Rock Center with Brian Williams" (NBC, 10 p.m.). No Chelsea Clinton reports, though.
There's no getting away from Scrooge this week. AMC brings back the 1984 "A Christmas Carol" (AMC, 8 and 10:30 p.m.) for another three days running (Does anybody think that this was even a particularly good version of it anyway?). At the same time Turner Classic Movies presents the 1970 "Scrooge" (TCM, 10:15 p.m.) with Albert Finney as part of its month-long salute to the bicentennial of Charles Dickens' birth. The night starts off with the 1958 "A Tale of Two Cities" (TCM, 8 p.m.).
Other holiday fare includes "Christmas with the Kranks" (FX, 8 p.m.), "Debbie Macomber's Call Me Mrs. Miracle" (Hallmark, 8 p.m.), "The Holiday" (Lifetime, 8 p.m.), "A Very Cool Christmas" (Lifetime Movie Network, 8 p.m.), "Trading Christmas" (Lifetime, 10 p.m.) and "Holiday Wishes" (Lifetime Movie Network, 10 p.m.).
Nick Offerman used to to a standup bit about his boyhood days — when he also had a Ron Swanson mustache. Tonight he presumably presents actual boyhood pictures as part of a joint episode of "The Morified Sessions" (Sundance, 8 p.m.) with his wife, Megan Mullally (otherwise known as Tammy No. 2).
There are new episodes of "The Closer" (TNT, 9 p.m.) and "Rizzoli & Isles" (TNT, 10 p.m.) tonight.
Catch last night's 90-minute doozie of a season finale of "Homeland" (Showtime, 10 p.m.).
"American Pickers" (History, 9 p.m.) start looking through the D.C., Virginia and Maryland area in a new epsode.
Anthony Bourdain goes to Hong Kong on "The Layover" (Travel, 9 p.m.).
Of course they have to bake a holiday themed confection tonight on "Cake Boss: The next Great Baker" (TLC, 9 p.m.).
How you can tell Mitt Romney is no longer the front-runner: He delivers a Top 10 list tonight on "Late Show with David Letterman" (CBS, 11:35 p.m.).
Tale as old as time, but the animation is holiding up pretty well anyway: "Beauty and the Beast" (Disney, 8:30 p.m.). Other notable animation tonight? "Aladdin" (ABC Family, 6:30 p.m.) and "The Incredibles" (ABC Family, 8:30 p.m.).
It's Pittsburgh at San Francisco on Monday Night Football (ESPN, 8:30 p.m.).
In hockey, it's Anaheim at Dallas (Versus, 8 p.m.).
Daytime Talk
Kelly Ripa: Rooney Mara, the cast of "Disney On Ice," Carly Roney, Lady Antebellum, Mark Consuelos. The View: Florence and he Machine. The Talk: Miranda Lambert, Allison Miller, Henry Winkler. Ellen DeGeneres: Brad Pitt, Chris Pratt, Kelly Clarkson (rerun). Wendy Williams: Ralph Macchio. Rosie O'Donnell: Mariah Carey (rerun).
Late Talk
David Letterman: Tom Cruise, Anthony Hamilton, Mitt Romney. Jay Leno: Sandra Bullock, Diablo Cody, Pink Martini. Jimmy Kimmel: Armie Hammer, Jeri Ryan, T-pain (rerun). Jimmy Fallon: Jeremy Renner, Rooney Mara, Michael Lindsay-Hogg, Carole King. Craig Ferguson: Regis Philbin, Goo Goo Dolls. Tavis Smiley: Angelina Jolie, Zana Marjanovic. Carson Daly: McG, Dr. Brian Greene, Mastodon (rerun). Jon Stewart: Ed Gillespie (rerun). Stephen Colbert: David Halbrg (rerun). Conan O'Brien: Seth MacFarlane, Elle Fanning, the Klezmatics. Chelsea Handler: Robin Thicke, Mo Mandel, Heather McDonald, Greg Fitzsimmons.