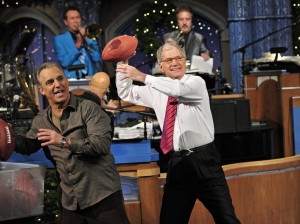 One of the great unsung traditions of network television occurs tonight when Jay Thomas and David Letterman take turns trying to knock the meatball off the top of the studio Christmas tree with a football on "Late Show with David Letterman" (CBS, 11:35 p.m.). If they can knock down the model of the Empire State Building and the pizza as well, it's all gravy.
An even more stirring thing about the pre-holiday ritual is Darlene Love's "Christmas (Baby Please Come Home)." But when did they tape this thing? Love is playing a live show in Rockville, Md., tonight.
Stan Lee appears for about a minute, and Zachary Levi dons a Santa Costume to get into a CIA party on "Chuck" (NBC, 7 p.m.).
Everthing else on broadcast TV tonight is a rerun, save for whatever's on "20/20" (ABC, 10 p.m.) and "Dateline" (NBC, 10 p.m.).
The four part miniseries "The Take" (Encore, 9 p.m.) winds up, with Jimmy still scheming to be boss.
One of the best Christmas specials – "Olive, the Other Reindeer" (The CW, 8 p.m.), is followed by one of the worst, "Grandma Got Run Over by a Reindeer" (The CW, 9 p.m.).
A "Phineas and Ferb" (ABC, 8:30 p.m.) holiday special makes its network debut among a slew of same season replays, from "Shrek the Halls" (ABC, 8 p.m.) to "Kung Fu Panda Holiday" (ABC, 9:30 p.m.). And "Prep & Landing 2: Naughty vs. Nice" (ABC, 9 p.m.) is on for the second time in as many days.
There are replays of the public TV annual concerts as well, "Christmas with the Mormon Tabernacle Choir" (PBS, 9 p.m., check local listings) and "Christmas at St. Olaf" (PBS, 10 p.m., check local listings.
Christmas movies include Jim Carrey in "Dr. Seuss' How the Grinch Stole Christmas" (ABC Family, 8 and 10:30 p.m.), "The Search for Santa Paws" (Disney, 8 p.m.), "The Night Before the Night Before Christmas" (Hallmark, 8 p.m.), which technically is tonight, "On Strike for Christmas" (Lifetime Movie Network, 8 p.m.), "Moonlight & Mistletoe" (Hallmark, 10 p.m.) and "A Different Kind of Christmas" (Lifetime Movie Channel, 10 p.m.).
Mystery and suspense movies that took place during Christmastime are featured on Turner Classic Movies, with "Backfire" (8 p.m.), "Lady in the Lake" (10 p.m.) and "Murder My Sweet" (midnight). Later, there's some horror for the holiday: "You Better Watch Out" (TCM, 2 a.m.) and "New Year's Evil" (TCM, 3:45 a.m.).
Quick before they're all annulled: "The Top 10 Weddings of 2011" (TLC, 10 p.m.). Randy Fenoli hosts.
One of the great movies: John Ford's Steinbeck adaptation, "The Grapes of Wrath" (Fox Movie Channel, 8:30 p.m.) with Henry Fonda.
Good to have "The Life & Times of Tim" (HBO, 9 p.m.) back for a third season at a time when the network is cutting other comedies, from "Hung" to "Bored to Death" and "How to Make It in America."
Tonight's "Gold Rush" (Discovery, 9 p.m.) takes a behind-the-scenes look at the popular series.
It's Baylor vs. West Virginia (ESPN2, 9 p.m.) in college basketball.
Daytime Talk
Kelly Ripa: .Daniel Boulud, Lidia Bastianich, Mark Consuelos (rerun) The View: Meryl Streep, Phyllida Lloyd, Mario Cantone, Joey McIntyre. The Talk: Margaret Cho, Ross Cassidy & Jeffrey Alan Marks. Ellen DeGeneres: Justin Bieber, Sherrie Gahn, David Freese (rerun). Wendy Williams: Star Jones, Dave Mizejewski (rerun). Rosie O'Donnell: Justin Bieber (rerun).
Late Talk
David Letterman: Jay Thomas, Darlene Love. Jay Leno: Terry Bradshaw, Bailee Madison, Chris Isaak. Jimmy Kimmel: Robert Downey Jr., Lenny Kravitz (rerun). Jimmy Fallon: Seth Meyers, Kim Wayans, the Muppets. Tavis Smiley: Alison Krauss. Carson Daly: Maker Studios, Seth Olenick, Foster the People. Chelsea Handler: Duane "Dog" Chapman, Beth Chapman, Dan Levy, Arden Myrin, Brad Wollack.