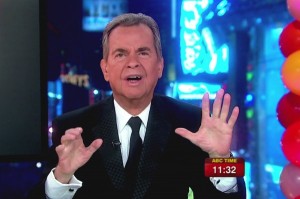 With the swagger of its mashed-up name – New Year's Rockin Eve – Dick Clark's TV signaled a youthful new method of ringing in a new year when it debuted on Dec. 31, 1972.
At the time, Guy Lombardo was still the king of the holiday, representing an older pre-TV era, with his his ballroom band the Royal Canadians playing "Auld Lang Syne" as the ball dropped in Times Square at midnight.
If he wasn't young himself at the time (43), Clark at least looked young, and he represented the young with his emphasis on pop music performers. (Still, it was Three Dog Night who hosted the first Rockin' Eve with a roster that included Al Green).
New Year's Rockin' Eve set the standard for the way all new year's eve telecasts are conducted. Nowadays, as during Saturday's event,  rival networks play opposite each other with big name performers squaring off at end of Times Square.
ABC's Rockin' Eve Lady Gaga, in a hilarious get-up and considerable lip-syning, as well as  Justin Bieber performing with Carlos Santana. At the other end, a different roster performed for NBC – Cee Lo Green sang "Imagine" just before midnight; Drake was rapping before that. One network would go to commercial while the other one presented the act, but there were times when they bled over, as when Green's song played as Santana was being interviewed and he ended up swaying his arms to the music.
As an image of a bygone king of New Year's Eve, Clark at 82, is seven years older than Lombardo was when he died in 1977. But seven years after a stroke took him off the telecast in 2004, and Dorian Grey's picture broke, Clark still shows the effect with speech that is still just as slurred as it was when he returned to the telecast in 2005. His banter is labored, not light, uncomfortable to watch and not easy to understand. He missed his cues from Ryan Seacrest half the time and had little to offer when he was given a chance to comment from his weatherproof booth far from the action.
He might have had impaired decisions, too, if he's the one who picked Jenny McCarthy as streetside host, who was just terrible ("Do your parents know you're out here?" she asked a youngster dimly).
One thing you could say about Lombardo's era, is that it might have been square but at least it had some dress-up elegance. Rockin' Eve is all winter ponchos and promotional top hats with prominent advertising on them; kids cheering mindlessly amid the biggest advertising landscape around: Billboard topping video screen topping billboard, with dozens of corporate logos in a single shot – an affront especially on a show where they'd cut to long commercial breaks every five minutes. There was such a crass crush of advertising, and such a barrage of products and product names, you got the feeling that people weren't turning the calendar at midnight, they were branding it.